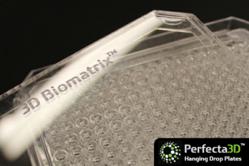 The Perfecta3D Hanging Drop Plates are now available from distributors in Canada, Mexico, China, Taiwan, and Hong Kong.
Ann Arbor, MI (PRWEB) May 22, 2012
3D Biomatrix, a leader in the development of three-dimensional (3D) cell culture products, has signed distribution agreements with four life science research product distributors in North America and Asia to market and sell the company's Perfecta3D[TM] Hanging Drop Plates. The Hanging Drop Plates are now available from TekniScience, Inc. in Canada, Control Técnico y Representaciones, S.A. de C.V. (CTR Scientific) in Mexico, Beijing Biocoen Biotechnology Co,LTD in China, and Ming-Mei Technology Co., LTD in China, Taiwan, and Hong Kong. Contact information for the distributors can be found on 3D Biomatrix's distributors site.
The Hanging Drop Plates are designed to simplify and streamline spheroid formation, culture, and subsequent testing of the 3D cellular constructs. Spheroid cultures grown in Perfecta3D Hanging Drop Plates allow drug discovery researchers to easily mimic tissue metabolic and proliferative gradients, to capture complex cell-matrix and cell-cell interactions, and to monitor cell growth easily and regularly.
"We are happy to have distribution partners in these countries," said 3D Biomatrix CEO Laura Schrader. "There is demand for our products in these regions, so these partnerships are essential to bringing our 3D cell culture technology to researchers around the world."
Information about the Perfecta3D Hanging Drop Plates can be found on the 3D Biomatrix website.