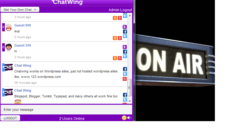 Chicago, IL (PRWEB) May 17, 2012
Online radio streaming has been around for many years already. This is based on Internet statistics and on the many websites that were created for the sole purpose of streaming. Lately, Chatwing's developers have decided to give spark to this niche. They introduced an efficient chat widget that can help online radio websites gather enough visitors. Aside from listening to great, timely music, visitors can now talk to each other about a wide range of topics.
Chatwing is all about communication and how to improve it. Through simple clicks in the widget, a user can now have a unique chatting experience. In fact, there is a chat box embedded in Chatwing's main website. This is for visitors who want to try out the Chatwing experience. Some visitors have also used the chat box to ask questions. There is always an admin present in the Chatwing website in order to deal with the questions of the visitors.
Chatwing also allows Facebook integration. Through this, guests and visitors can now log in with their Facebook accounts. The Chatwing chatrooms development team has noted that people who logged in with their Facebook accounts tend to exchange profile information with each other. This great social connecting feature has helped people expand their global networks. Since Chatwing is versatile, people can talk about different topics. Noted topics are fashion, humor, gadgets, blogging, websites, Facebook connection, and many more. Chatwing's developers are also encouraging bloggers to use the website chat tool in order to gain stable online presence for their blogs.
Online radio website owners who used Chatwing have also noted that the visibility of their websites have increased by more than fifty percent. Visitors are now staying longer in their websites, listening to music and chatting in the shout box. Commonly, the visitors talk about the latest trends in music. Others are posting requests and suggestions for the website.
About Chatwing.com
Chat Wing is a free chat box for all web pages and blogs. It also lets anyone create free chatrooms on any website or blog. The Chatwing.com website offers users the ability to signup and create a customizable live chat box instantly with few details. Users can create chatrooms and have the ability to select the size, dimensions, and colors of the shout box. The ability to live chat with Facebook, Twitter or guest avatars is a unique feature which also includes social sharing features in real-time. This free chat widget can be embedded in seconds with a few lines of html code. Chatwing is free chatroom software available to any user.