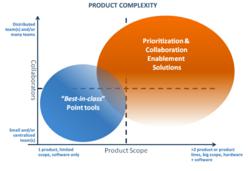 "Companies are being forced to understand that product complexity is at a much greater level than it has ever been before."
Stephen Turner, Accept Software
Santa Clara, CA (PRWEB) May 17, 2012
Accept Software has released a short video discussing product complexity and the challenges it has brought to global companies.
Stephen Turner, an executive at Accept Software discusses the four-fold challenges of product complexity from identifying the "right" products to the impacts of globalization and componentization for different markets. He explains the big penalties to companies who are not aware of or unable to deal with these complexities either by delivering the wrong capabilities, being too late to the market, or missing market demands altogether - all resulting in revenue losses.
The Accept Software Product Complexity Video covers:
1. The four-fold complexities for today's product companies,
2. The impacts of not being able to face the complexity challenges
3. That what is needed is not more "tools" but a platform to streamline processes.
About: When companies outstrip their "business-as-usual" product planning tools and in-house solutions Accept Software's product planning software as a service empowers global enterprises to accommodate constant change, coordinate teams and manage product scope, no matter how large or complex, from concept to delivery.
Accept Software's collaborative approach gives companies, with complex product planning challenges, a modern solution for aligning their products to the best market opportunities.
Download The Case for Modernizing Product Planning. Also consider downloading The Practical e-Buyer's Guide to Requirements Management.
For more information, visit http://www.accept360.com or call us at +1.866.423.8376.