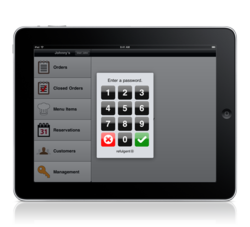 Ambur offers a one-time fee with no additional reoccurring fees for the license.
Buffalo, New York (PRWEB) May 17, 2012
The revolutionary iPad POS app, Ambur, has recently been updated in the App Store and on the Web. In addition to the software update, Ambur has rolled out with a new icon as well as a new website! The iPad POS app now allows for financing options on hardware and software alike. Call today for more information, or fill out a contact form.
The POS app itself has a redesigned start screen, and has expanded to include international business by providing VAT formatted receipts for a per-line tax display. Setting up the iPad POS is now easier than ever, with a smart auto-fill that blanks out default values and leaves intact the custom entries: another added feature meant to speed up the system is the ability to add a new customer directly from the order screen.
In order to create an easier customer experience, the reseller program has been greatly expanded and constantly growing. Visit the website and find a list of registered resellers along with their contact information. Ambur's own sales and support lines are still available and are more than happy to assist with any iPad POS needs that a person may have.
Ambur is an iPad POS app that allows a restaurateur to do everything from taking orders to processing credit cards. Ambur offers a one-time fee with no additional reoccurring fees for the license. The POS app also allows the user unlimited devices to be connected for as many terminals and as many tableside ordering devices as can be imagined.
Imagine having a POS that doesn't charge per terminal; that is easy to set up; that will function fully if the Internet goes down. All this is included in the iPad POS app. Contact an Ambur representative today.