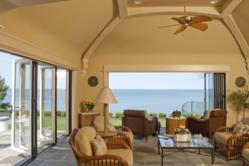 Corte Madera, California (PRWEB) May 17, 2012
NanaWall Systems, the industry leader in opening glass walls for more than 25 years, expands its product lineup for architects and design professionals attending the American Institute of Architects 2012 National Convention and Design Exposition in Washington, D.C. May 17-19. NanaWall will introduce four new offerings.

NanaWall Hurricane System
The NanaWall SL73 Miami Dade/AAMA Hurricane Folding System is ideal for creating large opening glass walls for coastal communities. The SL73 system is now available for custom heights up to 10 feet and widths of 38 feet. It provides maximum storm protection for single story and mid-rise buildings. ADA saddle sills available.
HSW66 SwingSlide Now Available in Unlimited Widths
The NanaWall HSW66 SwingSlide – sliding glass walls with a center swing French door - is now available with unlimited widths. The NanaWall SwingSlide looks and functions like a typical French door with fixed sidelights. The NanaWall difference is that both the operable doors and sidelights can slide away to create an unobstructed opening. Shown here four panels in 18-foot by 8-foot opening in Manitou, Colo.
NanaWall to Passive House Standards
The NanaWall WA67 T meets Passive House standards - the highest standard for energy performance in the world. The NanaWall WA67 T has a U-value of .17 and a Solar Heat Gain Coefficient of .26 thanks to triple glazing, argon-filled Low E glass and additional frame insulation, which optimizes use in colder climates. Shown here on the Great Lakes.
Storefronts and Entrances that Slide Away
The NanaWall HSW60 Vanishing Single Track Sliding System is now NFRC approved, Florida approved and has a Sound Transmission Class (STC) rating up to 43 for superior noise reduction. The HSW60 offers standard storefront features such as paired swing doors with weather and forced entry resistance. The panels (including the entrance doors) are designed to slide out-of-sight into a parking bay.
About NanaWall
NanaWall Systems provides operable glass wall systems for large architectural openings.
NanaWalls are used in commercial and residential buildings for interior and exterior applications. The broad scope of the NanaWall product line offers the design professional unequaled freedom of choice and innovative design options. Every NanaWall is a single-source product with components designed, produced and assembled as a complete system of unparalleled quality and performance.
With over a million opening glass panels installed worldwide and 25 years of experience, NanaWall is the recognized industry leader trusted by architects, design professionals and owners alike to provide opening glass wall systems with countless style options, unsurpassed durability and superior performance—all based on a foundation of testing, research and innovation.
NanaWall Systems is located in Marin County, California with Design Studio & Showroom locations across North America. Our nationwide network of certified installers and service technicians ensure your custom-made NanaWall is properly installed. NanaWall is the exclusive North American partner of Solarlux Germany, the world leader in operable glass wall technology. For more information, visit nanawall.com or call 800 873 5673.
###