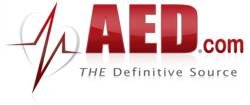 We feel that our business is well positioned to, not only show continued growth, but significantly accelerate sales going forward.
Brentwood, TN (PRWEB) May 17, 2012
Allied 100, which operates aedsuperstore.com, has been the leader in ecommerce AED sales for several years, utilizing their online presence for both education and sales. Allied's co-founders astutely nurtured an ongoing investment in time and capital to develop into the premier AED sales site on the web. Thompson Street undoubtedly views the AED market as a growing segment in the medical equipment industry. Increased purchases and deployment of AEDs will continue to be driven by education, advocacy and legislation at the state and federal level.
The acquisition can be accessed on the Thompson Street Capital website here (tscp.com/documents/TS-1049_TS_Allied100.pdf).
AED.com President, Matthew Spencer, sees Thompson Street's interest as a positive sign that the market remains on an upward trend. "The state of the economy has somewhat tempered the amazing growth that we've seen in the AED market over the last several years, but we feel that our business is well positioned to, not only show continued growth, but significantly accelerate sales going forward," he says.
The AED market is far from saturated. The potential for AED sales and placement is limited only to the number of buildings and modes of transportation in our country. At some point, AEDs may be as standard as fire extinguishers in commercial buildings or smoke detectors in homes.
Sudden cardiac arrest kills 1,000 people every day in the U.S. The only life-saving therapy that can be delivered is defibrillation and CPR. AED.com strives to increase awareness of the importance of AED deployment and AED program implementation.
Spencer maintains that an AED with Program Management is a very inexpensive insurance policy. "We constantly see AEDs that have been in service for 10 years or longer. When you breakdown the annual expense of having and maintaining an AED over this time period, we are only talking about $200-$300 per year to protect an office, school or home. Most of us purchase life insurance to provide for our family if we die; why wouldn't we invest in something that could possibly keep us with them?" he asks. "What is a life worth?"
For Spencer, the AED business is much more than just revenue and profit: "When I hear about a life being saved with an AED, it reaffirms that what we are doing saves lives. When that life was saved by an AED that was sold or donated by our company, it becomes personal. It is the source of a tremendous amount of passion and pride for what we do."
Thompson Street's interest in, and commitment to, the AED market through its acquisition of Allied 100 should be viewed as a testimonial to the importance of AED distribution and the positive prospects of the AED market in general. AED.com remains under the same ownership since 1999 and continues to service over 20,000 customers in the U.S. and abroad. Education and customer service are paramount to success in the AED industry, and AED.com provides both in the form of monthly specials for Vendor of the Month, Free Webex training by certified CPR trainers, an interactive blog and trained biomedical engineers.
AED.com is a Brentwood, TN-based distributor of AEDs, manual defibrillators and other cardiac equipment. Founded in 1999 by Matthew and Julie Spencer, AED.com has grown to operate in all 50 states and several countries internationally.