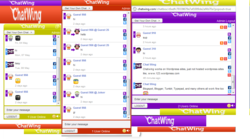 Seattle, WA (PRWEB) May 16, 2012
Web development has been one of the trending topics in the Internet lately. According to global statistics, many people choose web development because it is highly needed by hundreds and thousands of companies. Others, however, choose web development because of their passion for technology. Chatwing, an advanced and free chat box, has lately reached out to aspiring web developers in order to help them in their profession. This chat application specializes in global communication with simple clicks.
One of the best things about Chat Wing chat widget is the fact that it allows 100% Facebook integration. With this feature, people can now exchange profile information easily. To use this feature, the person must log in with his Facebook account. After that, he can now add other people who preferred the Facebook log-in method. Twitter log-in is also allowed by Chatwing. In this way, people can now find more followers.
Lately, web developers and programmers have paid Chatwing a visit. There, they talked about their profession and some notable trends. Game development is also a trending topic, in which people exchanged insights about games that they want to design. "It's nice to see professionals using the Chatwing shout box. This is more than just any chatting experience. These young professionals need different connections from many parts of the world. It is crucial for their success because contacts can provide opportunities. So, to express our gratitude to these people, we will maintain Chatwing to its great standards. We will keep it running smoothly," says Michael Diamond, one of the developers of Chatwing.
Chatwing also promises an easy installation mechanism, unlike other chatrooms with complicated commands. To install Chatwing, the user must register his domain name. This only takes a few seconds. In customization, the user has the opportunity to change the color, size, and title of the widget. After that, Chatwing will generate the necessary HTML code. Once embedded in a blog or website, the chat box will go live right away.
About Chatwing.com
Chatwing.com has developed live chat software for websites and blogs. It caters to different online communities due to its high rate of connectivity. Everyone can create a customizable live chatrooms in 1 minute or less. Users have the ability to customize the size, color, and fonts of the chat product. The ability to chat via social media accounts such as Facebook and Twitter enable Chatwing to offer a personal and unique real-time experience to all sites. Chatwing is 100% free and very easy to use.