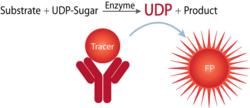 Madison, WI (PRWEB) May 18, 2012
Glycosylation controls the function and localization of thousands of human proteins and is central in bacterial cell wall synthesis. Selective targeting of glycosyltransferases may offer new avenues for therapeutic intervention in diverse diseases, including cancer, inflammation, and infectious diseases. BellBrook Labs pioneered the development of HTS-compatible assays for glycosyltransferases in 2005, with the introduction of the Transcreener UDP2 Assay, a fluorescent polarization immunoassay for UDP, the product of most human glycosyltransferases. The company is now introducing a second generation Transcreener UDP2 Assay, based on an improved monoclonal antibody for UDP, that is several-fold more sensitive than the original assay. The new glycosyltransferase assay will reduce reagent costs in large volume screens and allow detection of previously intractable glycosyltransferase enzymes with low substrate requirements. These improvements should accelerate efforts to identify glycosyltransferase inhibitors for use as molecular probes and as potential drug scaffolds.
Transcreener is a universal, high throughput biochemical assay platform based on detection of nucleotides, which are formed by thousands of cellular enzymes, many of which catalyze the covalent regulatory reactions that are central to cell signaling and represent new opportunities for therapeutic intervention. It relies on highly specific antibodies that detect nucleotides coupled with homogenous fluorescent detection formats suitable for automated HTS applications. Transcreener Assays for UDP, GDP and CMP (AMP2/GMP2 Assay) together enable universal detection of all types of mammalian glycosyltransferases that use nucleotide activated sugars as donors. It is the only HTS-compatible glycosyltransferase assay that allows direct detection of nucleotide reaction products without the use of additional coupling or reporter enzymes, which are a common source of interference by chemical library compounds.
About BellBrook Labs. BellBrook Labs, LLC develops detection reagents and microfluidic devices that accelerate the discovery of more effective therapies for cancer and other debilitating diseases. Transcreener® is a patented high throughput screening assay platform that was introduced in 2005 and is used to identify inhibitors for kinases and other types of protein drug targets. The iuvo™ Microconduit Array technology and assay screening service is a line of unique microscale devices for miniaturization and automation of advanced cell models that are more representative of human physiology. Visit BellBrook's website for more information: http://www.bellbrooklabs.com.