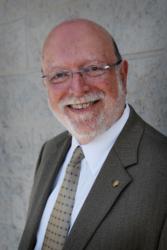 San Diego, Calif. (PRWEB) May 17, 2012
Gilbert D. Cooke, who served as dean at NewSchool of Architecture and Design (NSAD) from 2001–2009, has been named a member of the American Institute of Architects (AIA) College of Fellows for his contributions to the education field, in particular for his teaching, academic leadership and involvement in transforming NSAD into a nationally recognized school with a practice-oriented curriculum.
Cooke, who is among 105 AIA members elevated to the prestigious College of Fellows for 2012, has been invited to participate in a formal ceremony for recently named Fellows, which will be held in Washington, D.C., during the AIA 2012 National Convention May 17–19. Lisa Sachs, who serves as a member of NewSchool of Architecture and Design's Construction Management program advisory board, is also being inducted into the College of Fellows.
Cooke, who currently serves as dean emeritus at NSAD, was recognized for his role in expanding the downtown San Diego campus to accommodate a growing student population, raising entrance requirements and developing the school's graduate program in architecture as a separate department with an appointed chair.
"Being named a Fellow is a wonderful honor, and I am pleased that it acknowledges our success in finding and hiring the amazing faculty and staff who are the heart and soul of NewSchool of Architecture and Design and who are committed to the school's continued growth and advancement," said Cooke.
The AIA is an organization of more than 83,000 licensed architects and associated professionals, and the College of Fellows is composed of AIA members who are elected by a jury of their peers after a yearlong process that requires nominations and extensive documentation. According to the AIA, less than 4 percent of all AIA members have been designated as Fellows.
During his tenure as NSAD dean, Cooke hired new full-time faculty members and adjunct faculty members, including those with international experience. In addition to his administrative role, Cooke also was recognized for his development of innovative student projects in the community and abroad, such as preliminary designs for a new downtown YMCA in San Diego. Cooke also worked on a volunteer basis with two NSAD graduate students on an off-grid clinic in Yantalo, Peru, that is in the final stages of construction.
In addition, Cooke was one of the founders of the Academy of Neurosciences for Architecture, which originally was located at NSAD and is considered to be the first institution to link neuroscience with architecture through a better understanding of human responses to the built environment. Neuroscience and architecture courses have been developed at NSAD and are a unique component of the curriculum.
Cooke has also served on the AIA San Diego Board of Directors from 2002–2007, the California Architectural Foundation Board of Regents from 2006–2009 and the Board of Directors of the San Diego Architectural Foundation from 2003–2006. Prior to joining NSAD, he was director of the Cal Poly San Luis Obispo's architecture program for six years. Cooke was also a member of the Board of Directors of both the National Council of Architectural Registration Boards (NCARB) and the National Architectural Accrediting Board (NAAB).
The role of Sachs as a member of NSAD's Construction Management program advisory board includes sharing her expertise through recommendations for the Master of Construction Management program, which is offered entirely online, and the Bachelor of Science in Construction Management program. Sachs is a managing principal with Cumming Corporation, a leading provider of professional construction project services, and the author of "What is Your Construction Management IQ?" She was commended in her nomination for giving back to the architecture and construction community by serving as an educator, guest lecturer and mentor. Trained as an architect, Sachs was noted for her commitment to design excellence and her ability to meet the needs of both architects and constructors.
About NewSchool of Architecture and Design
NewSchool of Architecture and Design (NSAD), founded in 1980, is located in San Diego, California. NSAD is accredited by the Accrediting Council for Independent Colleges and Schools (ACICS). ACICS is listed as a nationally recognized accrediting agency by the U.S. Department of Education and the Council for Higher Education Accreditation. NSAD's Bachelor of Architecture, Master of Architecture and Executive Master of Architecture programs are accredited by the National Architectural Accrediting Board (NAAB). NSAD also offers a pre-professional Bachelor of Arts in Architecture, a Bachelor of Science in Digital Media Arts, a Bachelor of Science in Construction Management, a Bachelor of Landscape Architecture, a Master of Landscape Architecture, a Master of Construction Management and a Master of Science in Architecture. For more information, visit http://www.NewSchoolArch.edu.