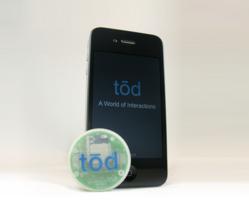 "The possibilities for creating actions tied to people, places and things using a tōd and a smartphone are endless," said Rowdy Robot CEO and tōd Creator Jonathan Prevo
Lehi, Utah (PRWEB) May 17, 2012
Hackers, makers and other technology do-it-yourselfers will soon be able to easily and affordably connect "things" to the Internet—ranging from people to pets, other objects and locations.
Startup firm Rowdy Robot is currently developing its new tōd (pronounced "toad") device and open development software platform. The company is actively attracting investors on the tōd Kickstarter website.
Scheduled for release in October 2012, the company's small rounded disks—known as a tōd Smart Beacon—and accompanying software will let tech savvy creators connect real-world objects and events to the Internet and even offline using their smartphones and other Bluetooth 4.0 enabled devices.
Using tōd Smart Beacons and their smartphones, people will be able to virtually bind together various people, places and things. Imagine being able to know the instant your child gets separated from you in a crowd...or your pet wanders too far from home...or a store's customers come in and are instantly greeted with that day's specials...or a nursing home is alerted if a patient with Alzheimer's leaves the facility.
"The possibilities for creating actions tied to people, places and things using a tōd and a smartphone are endless," said Rowdy Robot CEO and tōd Creator Jonathan Prevo. "We're especially excited to put our product and an open development platform out there and see what innovative uses people come up with. We want developers to know that we are providing an affordable alternative for Bluetooth Low Energy (BLE) development. Our solution is entirely unique due to the Bluetooth 4.0 wireless protocol and offers much more than a single use, proprietary platform."
Early Developer Access
Rowdy Robot plans to ship the first devices in October. However, developers will have early beta access to the hardware in July. "This will be ahead of the software development, so interested developers can begin creating solutions for themselves, us and the whole Smart Beacon crowd," Prevo said.
Early adopters and project backers are buzzing about the tōd, which has been written about on Mashable (and here), Endgadget, Geeky Gadgets and Mobile Magazine.
Low-Cost, Low Energy Connectivity Solution
The tōd is a small device, about the diameter of a silver dollar. The current prototype is 38mm in diameter and 13mm in height, which may be reduced slightly in the final design. Depending on the final enclosure design, that will also add about +/- of 2mm all around.
Each tōd is small enough to fit in a child's pocket or a car's glove compartment and has a battery life of over a year. The effective range of each tōd is adjustable from three to 500 feet.
Pricing for the Smart Beacon will be about $35, making it one of the lowest priced, ready-to-use wireless devices on the market. Developer kits ranging from $95 to $155 are available and include access to an open development community, SDK, documentation, EULA and hardware needed to start developing your own "Internet of things" or to evaluate Bluetooth 4.0 connectivity for your own project.
Connectivity Powered By The Growing Bluetooth 4 Standard
The tōd platform is based on proximity between the device itself and a smartphone enabled with Bluetooth 4.0. It uses "in range" and "out of range" events to trigger an interaction on the device within the app. Then using the cloud, those interactions can be made into richer experiences.
"Bluetooth 4.0 is quickly becoming the new, ubiquitous wireless connectivity standard for devices," Prevo said. "Other comparable devices in development rely on WiFi connectivity, which is OK—but we wanted to enable people to use the low power, lightning fast connections with Bluetooth 4 regardless of whether they were connected to the Web."
The tōd Smart Beacon is a single-mode Bluetooth 4.0 device, also known as Bluetooth Smart or Bluetooth Low Energy (BLE). Rowdy Robot developers are using the BlueGiga BLE112-A module. The "A" represents that it ships with an on-board antenna and that the model has been RF Certified.
BLE112 Bluetooth low energy single mode module is a single mode device targeted for low power sensors and accessories. BLE112 offers all Bluetooth low energy features: radio, stack, profiles and application space for customer applications, so no external processor is needed. The module also provides flexible hardware interfaces to connect sensors, simple user interfaces and even displays directly to the module.
The BLE112 can be powered directly with a standard 3V source and includes on module voltage regulation. The Smart Beacon design offers enhanced voltage projection with the TI's TPS62730, an ultra low power DC/DC converter with bypass mode that will reduce the current consumption during transmission nominally by about 20 percent when using a 3V coin cell battery. In the lowest power sleep mode, the BLE112A consumes only 400nA and will wake up in few hundred microseconds, according to the manufacturer, BlueGiga. The Smart Beacon is based on the BLE is module on a PCB that uses Rowdy Robot's own design and includes the battery holder for a CR2032 coin-cell battery.
The BLE112A module includes the entire standardized Bluetooth low energy stack protocol which includes GAP, GATT, L2CAP, SMP and Bluetooth SIG low energy profiles. It can support an unlimited number of connections (master only) and offer both master and slave modes.
BLE112 has 32 pins, 21 of which are programmable. Rowdy Robot has exposed all 21 programmable pins with quick connectors, 2-2x5 headers for the GPIO and another 2x5 header for the debugger, which allows developers to add any number and configuration of add-on modules including sensors, Human Interface Devices, displays and even motors and servos to control.
Developers can also develop and implement their own firmware using the Texas Instruments Debugger Kit. The debugger is required to license and access the TI software and connect their computer to the Smart Beacon to add their own firmware. Custom firmware solutions are written in BGScript language using the BlueGiga's SDK.
Each tōd has a programmable 8051 CPU on board with 128K that can provide simple Arduino-like functionality using Bluetooth 4 and firmware.
tōd Compatible Devices
Currently, tōd is compatible with the iPhone 4S, the new iPad, new Macbook Air, new Mac Mini, the Droid Razr family of phones, the HTC One S and X as well as the latest Samsung Galaxy S3. There are also USB Bluetooth Low Energy Dongles that plug into a PC or Mac for backwards compatibility.
"As far as being able to connect other accessories besides a tōd Smart Beacon to the platform and App, this is still under development, but we are committed to creating the most hardware agnostic platform we possibly can," Prevo said.
tōd Open Development Technology Platform
"We have an open development environment due to the fact that BlueGiga has graciously allowed us to utilize their SDK, documentation and tools provided that each Smart Beacon ships with the end-user license agreement," Prevo said. "This allows developers full access to their BG Script and Profile Development Kit at no charge. BlueGiga has provided the FCC and Bluetooth certifications so that we don't need to."
Rowdy Robot will provide an API that will be open for development, allowing for unlimited connections into any existing platform such as ifttt, Ninja Cloud and any other system that allows open development.
The free tōd application comes pre-installed with 10 aptly named templates, including functionality for proximity-based events and automatic updates to social media sites like Foursquare and Twitter. Rowdy Robot developers have also created an easy way for non-technical users to build their own interactions.
"We are planning for an array of sensors and add-on modules to extend the functionality of the tōd Smart Beacons," said VP Don Mallicoat. "We are actively experimenting with existing products and services that could be enhanced by the power of the tōd Cloud, the tōd App and Smart Beacons."
"Our first priority is to the iOS and Android mobile platforms, and possibly WinMobile if they have their OS and compatible devices ready in time," Mallicoat continued. "After that, we plan to release an application for PC and MAC desktops."
To further spur development, Rowdy Robot is building a reusable framework based on HTML 5 that will simplify the process of porting to other platforms.
Sign Up For Developer Access
Developers interested in the project are encouraged to participate in the company's early funding on Kickstarter. Everyone who participates will be signed up to be notified as soon as the development materials are available.
About Rowdy Robot
Rowdy Robot is developing tōd as affordable and expandable technology to connect consumers to their favorite places, things and actions using the company's innovative devices and software paired with Bluetooth 4.0 enabled devices. The Lehi, Utah based company was officially founded in 2012 after several years of research and development. For more information about tōd, visit http://todhq.com.