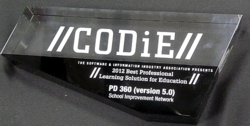 PD 360, the award-winning product that is proven by independent research to improve teacher effectiveness, is available for free
Salt Lake City, UT (PRWEB) May 17, 2012
The annual SIIA CODiE Award winners were announced last week, and professional development company School Improvement Network topped the list for Education Technology products. Their teacher education platform, PD 360, once again received a nod from voters, wining the "Best Professional Learning Solution for Education" category.
From the CODiE Awards website:
The SIIA CODiE Awards recognize excellence in the business software, digital content, and education technology industries. All nominated products and services receive a thorough review from seasoned industry experts who can identify strengths and give significant insights for improvements. In 27 years, SIIA has recognized more than 1,000 companies for achieving greatness in industries that expect innovative thinking and demand market validation.
"We're excited to once again win this award," says Chet Linton, CEO of School Improvement Network. "We thank the voters at SIIA for their consideration, and their recognition of the excellence of PD 360. It's an honor to be acknowledged, year after year, as the top leaders in our industry. We're honored to have SIIA standing alongside us to recognize that fact."
PD 360, the award-winning product that is proven by independent research to improve teacher effectiveness, is available for free. Click here to receive a free 30-day trial of PD 360, the world's largest online video and professional development distribution network for educators.