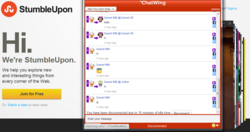 Houston, TX (PRWEB) May 17, 2012
When it comes to information delivery, Stumbleupon can be considered one of the leading websites. In just simple clicks, thousands of web pages can be accessed depending on user interests and news. This website generates thousands of sign-ups per day because of its outlying popularity. Recently, Stumbleupon users have gathered in the Chatwing chat box to talk about the topics they explored. Because of such influx, Chatwing's developers are working round the clock in order to provide adequate service.
There are many things that a person can discover in Stumbleupon. Some people consider it as a library of web pages where anyone can surf for long periods of time. In Chatwing, Stumbleupon users have been talking about forming communities related to these web pages. Some of them have already started making blogs about the facts they gathered from Stumbleupon. When it comes to blogging, Chatwing's chat widget plays an important role. First, Chatwing provides a stream of communication that can remain uninterrupted for long periods of time. Second, Chatwing offers Facebook integration. Through this, people can exchange profile information easily.
Chatwing also puts the premise of website chat in a whole new level. This is possible by providing a simple and easy platform that is accessible to many users all over the world. Chatwing is also dynamic, as bloggers can use it in many ways possible. Once installed in a blog, the Chatwing shout box has the potential to increase visibility by more than eighty percent. Combined with beautiful content, the percentage may even go up.
There are other chatrooms that are in line with Chatwing's niche. However, only a handful of these can deliver maximum performance. Also, most of them have subscription fees for very limited service. Chatwing, despite its simplicity, provides one hundred percent service while still under the freemium business model. Its developers have ensured people that Chatwing will remain free for a very long period of time.
About Chatwing.com
Chatwing.com has developed live chat software for websites and blogs. It caters to different online communities due to its high rate of connectivity. Everyone can create a customizable live chat widget in 1 minute or less. Users have the ability to customize the size, color, and fonts of the chat product. The ability to chat via social media accounts such as Facebook and Twitter enable Chatwing to offer a personal and unique real-time experience to all sites. Chatwing is 100% free and very easy to use.