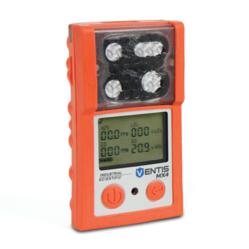 Pittsburgh, PA (PRWEB) May 17, 2012
Industrial Scientific Corporation, the global leader in Gas Detection as a Service, announced today that the Ventis MX4 multi-gas detector has received MSHA approval for underground mining.
The Ventis without pump has been certified by MSHA under Title 30 CFR, Part 22 when used with the standard or extended runtime lithium-ion battery packs. Industrial Scientific anticipates that the Ventis with pump will receive MSHA approval later this year.
The lightweight and highly configurable Ventis is capable of detecting from one to four gases including oxygen (O2), methane (CH4) and any two of the following toxic gases: carbon monoxide (CO), hydrogen sulfide (H2S), nitrogen dioxide (NO2) and sulfur dioxide (SO2). The Ventis can be configured with CH4, CO, and O2 sensors for many everyday mining applications or it can be configured with CH4, CO, O2, and NO2 sensors making it ideal for mines using diesel equipment.
It is fully compatible with iNet® - Industrial Scientific's Gas Detection as a Service solution. Today, iNet helps keep workers safe at more than 3,000 worksites across 19 countries by providing visibility into gas detector alarms, exposure and usage.
To learn more about the Ventis, visit http://www.indsci.com/ventis.
About Industrial Scientific Corporation
Industrial Scientific Corporation is the world's leading provider of Gas Detection as a Service. With more than 850 people working in 20 countries, Industrial Scientific is dedicated to eliminating death in the workplace by the end of this century. Achieving this goal requires dedication to delivering highest quality and best customer service in all transactions. Industrial Scientific also focuses on providing analysis of data from equipment use and maintenance to identify problems before they happen. Industrial Scientific has operations based in Pittsburgh (USA), Arras (France), Dortmund (Germany) and Shanghai (China). The company provides technical services to customers from local service centers around the world, and has additional offices in Australia, Bahrain, Brazil, Canada, Czech Republic, India, Indonesia, Italy, Mexico, Netherlands, Poland, Qatar, Saudi Arabia, Singapore, United Arab Emirates and the United Kingdom. Industrial Scientific is the parent company to Oldham (http://www.oldhamgas.com) and Predictive Solutions Corporation (http://www.predictivesolutions.com). For more information, visit http://www.indsci.com.