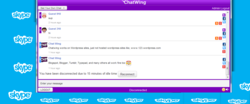 Los Angeles, CA (PRWEB) May 17, 2012
Skype has been one of the most famous online applications when it comes to making calls, instant messaging, even SMS texting. According to Internet statistics, lots of people have been using Skype to deal with professional services and other transactions. Chatwing, an advanced and free chat widget, has recently branched out to the Skype community. Chatwing offers another stream of communication wherein people Skype users can get the opportunity to expand their social networks.
If Skype is all about flawless calls, Chatwing is all about uninterrupted and renewed website chat experience. It is also an application that is reliable enough when it comes to increasing a blog or website's online visibility. As a bonus, Chatwing chatrooms also features Facebook integration option. Through this, guests and visitors can log in with their Facebook accounts, easing up profile information exchange. Skype professionals can use this option to meet new people and contacts. Basically, more contacts mean more opportunities.
Installing Chatwing to blogs also doesn't take much time. According to Chatwing's developers, average installation of the free chat box takes only about fifty seconds. Some users have noted even lesser time. This is useful for people who are always busy, like professionals and entrepreneurs who rely on Internet when it comes to transactions. Entrepreneurs have used Chatwing for customer service purposes. Through Chatwing, people can now post their questions and inquiries in real-time.
Chatwing users have also noted that their blogs and websites have increased in rate of online presence after about a week of widget usage. Chatwing does this by transforming the blog or website into an online chatting lounge where everybody can gather and talk about different topics. Other chatrooms have followed the same path with Chatwing, but only a handful of them can deliver the best standards. Chatwing also has a Facebook page that users can always visit. This Facebook page is frequently updated with fresh and useful content.
About Chatwing.com
Chatwing.com has developed live chat software for websites and blogs. It caters to different online communities due to its high rate of connectivity. Everyone can create a customizable live chat box feature in 1 minute or less. Users have the ability to customize the size, color, and fonts of the shout box product. The ability to chat via social media accounts such as Facebook and Twitter enable Chatwing to offer a personal and unique real-time experience to all sites. Chatwing is 100% free and very easy to use.