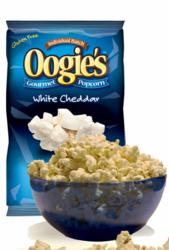 "Our fans can expect to see lots more fun monthly grand prizes from us this year that encourage a well-balanced life and require some popcorn eating of course!."- Eric Thier
Denver, CO (PRWEB) May 17, 2012
Oogie's Snacks, manufacturer of Oogie's Gourmet Popcorn, is promoting their commitment to a healthy active lifestyle by giving away unique prizes throughout 2012 to their loyal fans who register on Facebook. Every week one winner is randomly drawn to receive a case of Oogie's and every month, one winner is drawn to receive a special grand prize.
May's grand prize is a donation of one thousand snack bags of Oogie's Gourmet Popcorn to the winner's choice of school, church, charity or other local community organization.
Prior grand prizes include a snowboard from Blank Snowboards, a diverse selection of products from their favorite Colorado natural gourmet food companies and an Electra Verse 21D Bicycle.
"Sure, we could talk about popcorn day in and day out to our fans, but Oogie's is more than that," says Eric Thier Founder & President of Oogie's. "Most people think about popcorn in relation to stagnant activities like movies, television and watching sporting events, but we're a lifestyle brand and encourage people to incorporate Oogie's as part of an overall healthy active lifestyle. Popcorn is fun, spontaneous and delicious."
"Our sweepstakes is a way to build relationships with our fans and share common interests. We are movie lovers, athletes, music fans, and more," he continues. "We know people can't live on popcorn alone, so we are trying to promote things that take into account the bigger picture. Like February, when we introduced our fans to some of our favorite natural foods like Justin's Nut Butters, Oogave Natural Soda, Evol Foods, Love Grown Foods Granola to name a few. And March the Electra Verse bicycle - a fantastic way to get around, get fit and have some fun. Our one thousand bag donation prize is a fun way for the winner to give back to their community, also an important part of our business."
Oogie's has more then tripled their fan base on Facebook since they began the promotion in January and received tremendous feedback from their consumers.
"Social media is an integral part of our daily lives," says Thier, "It just seemed natural to us to use it as a medium to reach out to our customers and build relationships. Our fans can expect to see lots more fun monthly grand prizes from us this year that encourage a well-balanced life and require some popcorn eating of course."
Consumers can enter via the company's Facebook page at http://www.facebook.com/oogiesnacks and just one entry qualifies you for the full year of random drawings. To learn more visit: http://www.facebook.com/oogiesnacks.
About Oogie's Gourmet Popcorn
Oogie's Gourmet Popcorn offers nine distinct gourmet flavors including Kettle Corn, White Cheddar, Movie Lovers Butter, Sun Dried Tomato & Parmesan, Smoked Gouda, Spicy Chipotle & Lime, Cracked Pepper & Asiago, Romano Pesto and Hatch Chili Con Queso. All of Oogie's flavors are all natural, gluten free, whole grain and made with no trans fats and their proprietary non-GMO corn. Oogie's Gourmet Popcorn can be purchased at select retail outlets across the U.S. To find a retailer near you and learn more about Oogie's Gourmet Popcorn, visit oogiesnacks.com