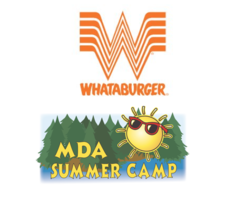 Whataburger believes in giving back to the communities we call home.
Tucson, Arizona (PRWEB) May 17, 2012
On Wednesday, May 23, Whataburger Restaurants will celebrate National Burger Month by giving back to the Muscular Dystrophy Association (MDA). From 5 to 8 p.m., Whataburger customers can show their support by enjoying their favorite menu items — and 20 percent of sales, up to $100,000, will be donated to MDA. Proceeds will help children with muscle disease attend MDA summer camp.
"Whataburger believes in giving back to the communities we call home," said Pam Cox, group director of corporate communications for Whataburger. "We're fortunate to have the most generous customers, and with their support we hope to send some very special kids to MDA camp this summer for an unforgettable week."
MDA summer camps offer a wide range of activities specially designed for youngsters who have limited mobility or use wheelchairs. Each year, campers have an unmatched opportunity to develop lifelong friendships, share interests and build self-confidence.
It costs an average of $800 per camper to send a child affected by a neuromuscular disease to camp at no cost to their family. The summer camps also offer a week of respite for campers' parents, who often serve as full-time caregivers for their children.
"Our summer camps are magical places where kids can just be kids," said MDA Executive Vice President of Business Development Kevin Moran. "We're excited and grateful that Whataburger has chosen to support our summer camp program through their National Burger Month celebration."
The Whataburger fundraiser for MDA is part of Whataburger Serves, an ongoing initiative designed to share the Whataburger spirit of selfless service with the community.
WHO: Whataburger Restaurants and the Muscular Dystrophy Association
WHAT: Whataburger Fundraiser Night for MDA Summer Camps
WHEN: Wednesday, May 23, 2012, 5 to 8 p.m.
WHERE: All Whataburger locations
About Whataburger
Visit whataburger.com for more information on the company. Become a fan on Facebook (facebook.com/whataburger) and follow the brand on Twitter (@Whataburger).
About MDA
MDA is the nonprofit health agency dedicated to curing muscular dystrophy, ALS and related diseases by funding worldwide research. The Association also provides comprehensive health care and support services, advocacy and education.
For more information, visit mda.org and follow MDA on Facebook (facebook.com/MDAnational) and Twitter (@MDAnews).