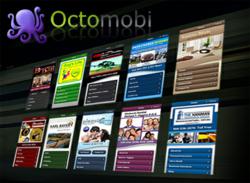 (PRWEB) May 28, 2012
Octomobi's website wizard creates slick, professional mobile websites that work across a range of mobile devices. The new upgrade allows users to easily build a mobile website by dragging and dropping content sections they want to include in their mobile site. Once a section is included, the user can add content such as text and images and all changes are shown in a mobile phone simulator, in real time to show exactly how it would look to a mobile user.
The wizard allows creators to include a variety of features that add value to their mobile web presence, including a "click to call" function so the visitor can make direct contact with the business, and step-by-step GPS navigation for those visitors that are trying to find the business's location whilst on the move.
Since its launch in 2011 Octomobi has helped countless businesses who have recognised the importance of having a user friendly mobile website, but co-founder Alex Michaelis is concerned that many more businesses risk being left behind: "As the use of mobile devices continues to rise so too does the expectation for websites to be mobile-friendly. With 1.2 billion mobile users worldwide a good mobile website is fast becoming a business requirement and not just a nice to have. But people – and that means customers," he stresses, "are being forced to 'make do' with existing desktop websites that offer a poor experience. It is time businesses evaluate their online presence."
Alex is quick to point out that taking advantage of the mobile boom doesn't need to be a complicated or costly exercise. "Mobile websites do not need to replicate their traditional equivalents – in fact, in many ways they should not mirror them so it does not need to be an overbearing exercise of cut and paste. The Octomobi wizard allows business owners to quickly and easily create mobile websites that are truly adapted for a mobile browsing experience," Alex says. "It is a step-by-step, 'do it yourself' mobile website wizard and the end result gives the polish of a native mobile app that is 100% browser-based."
The London-based startup has been fanatically focused on simplicity and Octomobi has been designed to make mobile website creation easy for anyone to build a website without technical knowledge. This approach has paid off, with growth of 1200% in websites built over the past 9 months.
"We focus on creating a great experience not just for Octomobi users, but for the mobile web users visiting our mobile websites. We feel this is the key to solid growth going forward."
ENDS
For further press information please contact: Alex Michaelis at contact(at)octomobi(dot)com
http://www.octomobi.com