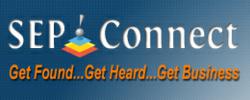 Half the battle is wading through the muddy waters of SEO to provide business solutions so that small business owners can benefit by spending more time on their business and less time trying to figure out our business.
(PRWEB) May 18, 2012
Best Bark Media is pleased to announce that SEP Connect http://www.sepconnect.com has hired their agency to help manage marketing efforts in the Washington Metro Area and beyond. Best Bark Media will be handling media placement, public relations and networking opportunities.
With offices in California and Northern Virginia, SEP Connect is a seasoned Internet marketing company that offers a revolutionary search optimization technique, Search Engine Placement (SEP), that places local businesses on the first page of Google and Bing in the natural search results to ensure customers, get found, get heard and get business.
Undoing the misinformation and confusion that many small businesses have regarding how to use the new technologies to build business, SEP Connect helps owners navigate through the haze of misunderstanding of search engine optimization with a promise to get their business noticed.
President and CEO Dave Hoppmann says, "what makes SEP Connect different is the guarantee. SEP Connect guarantees that this can be done in less than 45 days or the client will not be charged a dime until they are on the front page of Google or Bing. No one is giving that guarantee."
Unlike their competitors, there are no registration fees or hidden service fees to worry about.They also offer an Exclusivity Guarantee. That means, they only work with ONE type of business per city, giving clients a competitive advantage to ensure that their business is found on page one of Google and Bing in the cities that matter most to them. SEP Connect's placements are also mobile ready.
SEP Connect plans to open their corporate headquarters in Tysons Corner in the coming months.
Hoppmann, President and CEO has twenty years of experience leading and growing technology and Intelligence companies. Prior to SEP Connect, David held President and CEO positions at Stratfor, Yellowbrix and Infoseek. David holds a B.A. in Business and Economics from George Washington University and has completed Executive Management programs at Harvard Business School and Harvard Law School.