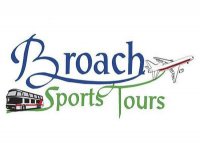 Kauffman Stadium is one of baseball's hidden gems.
Charlotte, N.C. (PRWEB) May 21, 2012
Broach Sports Tours has turned trips to the Major League Baseball All-Star Game into an annual outing, and it will continue the tradition at this year's All-Star Game in Kansas City on July 10.
President Tom Broach announced that All-Star Game travel packages are still available, but are in high demand because Kansas City's Kauffman Stadium is one of the coziest venues in baseball, seating just 37,903.
Broach's basic package runs July 8-11 and includes tickets to Monday's Home Run Contest, Tuesday's All-Star Game, three nights hotel accommodations at the Doubletree Hotel Kansas City Airport, admission to Fan Fest at the Kansas City Convention Center, souvenirs, and more. Seat upgrades and other options are also available.
Broach said that the All-Star Game is one of his favorite tours of the year. All in all, Broach offers 27 baseball tours during the summer with visits to all 30 Major League stadiums.
"It's a fun event, and the Home Run Contest on Monday night has become a big event as well," Broach said. "To sit there and watch Josh Hamilton and others belting them out of the park, it's as awe-inspiring as the All-Star Game itself.
"One of the things I enjoy most about the All-Star Game aside from the game itself is that the old-timers are there before the game and get introduced between innings. Sometimes you don't get all the feel of that on television that you get in person."
Broach figures that Kansas City will put on a fabulous show, for several reasons.
One, Kauffman Stadium is a great venue, having undergone a $250 million renovation in 2007. It's one of the few Major League stadiums that has been built strictly to host baseball, and it was the antidote to the "cookie cutter" stadiums built elsewhere in the 1970s.
The fountain and waterfall in right field is iconic. At 322 feet, it is the largest privately-funded water fountain in the world.
"Kauffman Stadium is one of baseball's hidden gems," Broach said. "Of the stadiums that were built in that era, it was certainly in the top two or three. The fountain in the outfield is special. People my age can remember watching the Royals in the 70s in their heyday, and you remember seeing that fountain in the outfield. Everything about the stadium is good. The fans are good fans, and it's a good environment."
Also, Kansas City promises to put on a fabulous show as it hosts the All-Star Game for just the second time. The only other time the game was held in Kansas City was in 1973, the year the stadium opened as Royals Stadium.
"Kansas City is a fun place to visit," Broach said. "The Country Club area is a great area with bars and restaurants, and that will probably be the main gathering area for fans at night. One of my favorite restaurants is Chappell's Restaurant and Sports Museum. It has more memorabilia than any restaurant I have ever seen."
Broach Sports Tours, based in Charlotte, N.C., has been a leader in the group and sports travel industry since 1992. It also specializes in tennis travel packages and golf travel packages.
For more information, contact Melanie Hicks at 800-849-6345 or visit http://www.BaseballToursUSA.com.