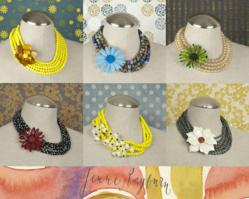 Scouring local and global markets, auctions, and galleries for eye-catching vintage and antique components, Jenne carefully hand-selects pieces with elegance and flair to create distinctive, timeless designs.
Boston, MA (PRWEB) May 17, 2012
Jenne Rayburn jewelry and fashion accessories are designed for the fearlessly fashionable with a vintage taste. Using both found objects and her own line of vintage inspired pieces, Jenne crafts unique bracelets, earrings and necklaces designed around eye catching focal points that are both unpretentious and elegant. Colorful enameled flowers and rhinestone floral spray brooches often take center stage, motivated by a passion for antique and estate jewelry, and a love of gardening, especially the flowering Clematis vines that bloom in her back yard all spring and summer. "Nature is a primary source of inspiration for color, texture and form combinations," says Jenne Rayburn, founder and designer of Jenne Rayburn Handcrafted Jewelry and Fashion Accessories. "Whether I'm driving New England back roads or wandering conservation land near our house, the juxtaposition of colors, textures, shapes, and symbols are endless."
Growing up in the rural farming country of southeastern Washington State, Jenne Rayburn recalls that the thrift store was one of the most interesting places to shop. However, it is not just the thrill of the hunt for unique jewelry and home accessories that Jenne loves; it is the places the hunt takes her, and the wonderful people she meets along the way. While her specialty is vintage accessories, jewelry and vintage cloth, circa 1890-1960, she also loves mid-century furniture and antique lighting. "I am endlessly inspired by the gorgeous materials and craftsmanship found in antique and vintage objects, and in their stories – or the stories I imagine," says Jenne Rayburn. "I've loved antiques since the first time my grandmother recounted the story of her heirloom furniture that was buried in her family's back yard to escape the Chicago fire. For me, wearing vintage jewelry is like traveling back in time."
An avid traveler, Jenne has lived abroad and she travels extensively, continually honing her unique style and intelligent eye, and with impeccable taste replenishing her collection of vintage and limited edition materials. Scouring local and global markets, auctions, and galleries for eye-catching vintage and antique components, Jenne carefully hand-selects pieces with special details or that have an elegant flair. These enchanting finds are then playfully combined with sometimes unexpected colors and textures to create distinctive, timeless designs. One might find a strand of old Venetian glass with an antique bronze pendant or vintage Swarovski crystals with a japanned black lacquer brooch. Each piece is meticulously handcrafted with care in the designer's Malden, MA studio.
Whimsical yet sophisticated combinations of color and texture play a huge role in the unique personality of each piece and in the success of a statement necklace. "Our customers are intrigued by the vintage craftsmanship mixed with the contemporary creativity of the collections," explains Jenne Rayburn. "Our handmade pieces are wonderfully original, combining artistry and imagination with functional details." Also motivated by the desire to create comfortable jewelry women can wear all day, Jenne continually works to create unique jewelry collections that are bold yet versatile and easy to pair with any outfit. Ergonomics and wear-ability is carefully integrated into the unique personality of each piece, resulting in handcrafted jewelry with personality that you can live in.
It's every woman's dream to own beautiful, confidence building jewelry. The right accessories can transform a simple, everyday top or dress into the outfit everyone remembers. While each woman is different, being genuine and original is key to a successful style. Rayburn advises, "Be true to yourself, and try not to be concerned with trends or the opinions of others. Whether you love big, bright, contemporary statement earrings, or your grandmother's favorite necklace, accessorize yourself with what brings you happiness." Jenne believes that every day brings a new opportunity for self-expression. Adornment should be inspiring and a reflection of your individuality. When you feel good about yourself, you approach the world with confidence, which is the ultimate in polish and style.
Visit Jenne Rayburn's collections http://www.jennerayburn.com
Visit Jenne Rayburn on Facebook http://www.facebook.com/Jenne.Rayburn
About:
Jenne Rayburn is a Boston-based jewelry/textile artist who also studied interior design and architecture, and her work evolves from the overlap between architecture, design, technology and art. Jenne is known for her designs made from reusing vintage textiles, findings and components, found while foraging in antique shops and vintage markets. A graduate of the University of Washington where she studied metalsmithing and fiber arts, and of the University of Massachusetts, Amherst with a MS in Design, Jenne has been designing jewelry and apparel for over 20 years. Perpetual curiosity and a passion for experimentation resulted in her first jewelry collection made from etched copper and brilliantly colored enamel. Since then Jenne has created six distinctive collections that combine careful workmanship with unique materials and designs. It is her hope that the wearers of her pieces will find joy in a delightful artistic statement, and also something that enhances their individuality and confidence. Her work is carried in local galleries and online. Please visit jennerayburn.com for Jenne Rayburn's online flagship store. For wholesale information, please visit jennerayburn.com/wholesale
# # #