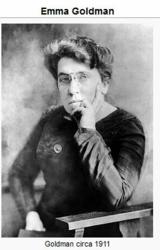 The most violent element in society is ignorance. -Emma Goldman
Santa Fe, NM (PRWEB) May 16, 2012
Wise Fool New Mexico and Santa Fe Performing Arts come together to produce "Love & Emma Goldman: A Rock Opera, which is coming to the stage at Santa Fe's Armory for the Arts from May 17th to May 20th. Santa Fe librettist Sarah-Jane Moody and her life partner music composer Jeremy Bleich, funded with two grants, one for $50,000 from the California Foundation for Peace and Justice and one for $7000 for production of the opera's CD from Music Matters, have taken the time to convert the speeches, essays, books and letters of Goldman to an all-encompassing, incredibly creative tale telling rock opera about this controversial ground-breaking historical figure.This event is a SantaFe.com Featured Event on the company's monthly event calendar.
Goldman, once described as the "most dangerous women in America," by FBI Director J. Edgar Hoover, was considered very radical and a menace to society not only for political views and writings, but additionally for the murder attempt she made on Carnegie Steel Co., chairman Henry Clay Frick. Goldman, since her death in 1940, has evolved into a well liked historical figure because of her positions on the right for women to make decisions about their own bodies and the rights to all Americans to free speech. "The most violent element in society is ignorance." -Emma Goldman
Performance times are as follows:
Thursday, May 17 • 7:00 PM - 9:00 PM
Friday, May 18 • 7:00 PM - 9:00 PM
Saturday, May 19 • 2:00 PM - 4:00 PM
Saturday, May 19 • 7:00 PM - 9:00 PM
Sunday, May 20 • 4:00 PM - 6:00 PM
Ticket Info:
General Admission: $15- 30 sliding scale. The sliding scale ticket policy means patrons are free to choose the price being for admission into this event.
About Santa Fe Performing Arts:
The mission of Santa Fe Performing Arts is to serve the community as a tool for education, to address the issues of our time and place, to collaborate with other social service organizations, and to teach theatre to individuals of all ages, while maintaining a professional resident company committed to excellence in a venue that welcomes innovation and variety. SFPA fosters a wide range of productions, from start to finish, with a constant eye on the needs and interests of the community.
About Wise fool New Mexico:
It is Wise Fool New Mexico's mission to ignite imagination, build community, and promote social justice through performances and hands-on experiences in the arts of circus, puppetry, and theatre.
About SantaFe.com/Hutton Broadcasting
SantaFe.com provides locals and visitors to Santa Fe alike the most current interactive platform for events, music, arts, business, dining and lifestyle. SantaFe.com is a division of Hutton Broadcasting, located at 2502 C. Camino Entrada, Santa Fe, NM 87507
Contact Information:
Scott Hutton
SantaFe.com / Hutton Broadcasting
http://www.santafe.com
(505) 471-1067 (Media inquiries only, please)