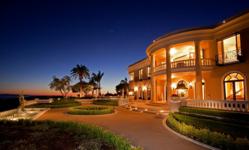 We just booked our 1st Event & have several pending. This is so great! Our 1st Booking has easily paid for our Entire Premium Listing for the Year & then some. (Shari Canepa | Sonoma, CA)
(PRWEB) May 17, 2012
Estate Weddings and Events, a website that publishes a directory of luxury estates that host weddings and special events, has announced that they will be offering a 30-day risk free trial listing to estate owners and managers who want to use the site to advertise their property. Estate Weddings and Events, which bills itself as "the premiere luxury estate listing website," currently has a directory that is made up of estates located throughout the US and in 15 other countries. These estates range from luxury beach-side rental villas to large wedding reception halls.
Estate owners are given three listing options, each of which offers a different level of service. The "premium" listing packages feature top-of-page placement, larger hosted image galleries, and a customizable amenities menu. Estate Weddings and Events also has additional promotional tools, which are available for an extra fee. These include a personalized social media marketing page, a listing on the site's homepage, and other marketing services such as social media sharing and a promotional post on the Estate Wedding and Events blog. An additional discount of 10% is available for all estates that pay for their first year's listing up-front. Prospective renters and event hosts can contact the estates directly through a form on each estate's listing page. These correspondences are delivered directly to the estate owner's or manager's inbox.
The services associated with the 30-day risk free trial are focused on supporting the business efforts of estate owners and managers, but Estate Weddings and Events also has resources for people who are planning weddings, vacations, corporate events, or special events. The website's blog is updated regularly with posts that offer tips on wedding planning and ideas to help people choose the best estate for their vacation. Other posts on the blog give a more-in-depth look at some of the estates that are listed in the directory portion of the site. Many of these posts have a large amount of images, allowing visitors to get a visual feel for a specific estate as well as learning the details from the text. The blog also highlights estates that are best suited for a specific purpose. Recent posts have focused on the best beach vacation estates and the best wedding estates located in a particular region of the country. In a bid to give would-be brides and grooms inspiration, the blog also has posts that put a spotlight on past successful weddings that were hosted at the estates listed in the Estate Weddings and Events directory.
A handful of posts that provide information for estate owners and managers who are interested in listing their estate have been published on the Estate Weddings and Events blog as well. These posts cover all aspects, from preparing an estate for rental to information about the financial components of renting out an estate.
More information about the risk free trial and more weddings and event planning resources can be found on the Estate Weddings and Events website.