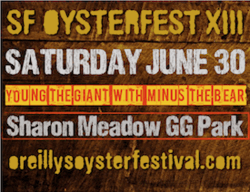 "He was a bold man that first eat an oyster" Jonathan Swift
San Francisco, CA (PRWEB) May 18, 2012
13th Annual San Francisco OysterFest
San Francisco – O'Reilly's Productions announces the 13th Annual San Francisco OysterFest in Sharon Meadow on Saturday, June 30th, 2012 from 11:00 a.m. to 6:00 p.m. This event is the largest Oyster festival on the West Coast drawing over 300,000 people to date. Over half a million succulent oysters have willingly sacrificed themselves over the years and with oysters from a variety of oyster farms across the Pacific Coast there's even more to enjoy at this year's Oysterfest.
This year's festival includes the winner of SF Station's local music showcase, The Lineup, produced in partnership with OysterFest as well as a great cast of contemporary bands featuring Young the Giant, Minus the Bear, Manchester Orchestra and Little Hurricane.
SF Station introduced The Lineup up in fall 2011 in an effort to promote emerging local bands. The first showcase drew capacity crowds and now they're back with the winning local band landing a three song set at the festival in Golden Gate Park.
Californian quintet, Young the Giant, released its debut album in 2010, with the band's first two singles "My Body and "Cough Syrup" rising to the top five of the Alternative Music charts. Writing intricately crafted songs, the band's thoughtful and melodic music has quickly become a favorite among fans and has been recognized as the "Band to Watch" by Spin, Nylon, and The New York Times. With a full out schedule, Young the Giant has played over 160 shows in the last year including performances on Late Night with Jimmy Fallon, The Tonight show with Jay Leno and the TODAY show.
The 13th Annual San Francisco OysterFest stands out among other Bay Area festivals because of its brilliant blend of music, oysters and Guinness stout. Although oysters are king here, there's also a wide range of food from some of San Francisco's finest restaurants with an emphasis on providing healthy, local, and sustainable products. A wide variety of beverages will also be available, ranging from beer, wine and premium spirits including a new Happy Hour in which all alcoholic beverages will be $1 off until 2 pm.
Activities at the 13th Annual San Francisco Oysterfest include the ever-popular "Shuck and Swallow" competition, an Oyster History Exhibition and cooking demonstrations. Additionally, there will be a spacious play area set aside for children.
In partnership with San Francisco Parks and Recreation, the festival supports San Francisco's goal of achieving zero waste truly green. Please help us support San Francisco with its goal of achieving zero waste. All food and beverage containers will be compostable and though no bottled water will be sold at the event, free drinking water will available throughout the festival.
Helping to operate this year's event are volunteers from The Leukemia & Lymphoma Society's Team In Training (TNT), which will benefit from a portion of the event proceeds.
The largest Oyster Festival on the West Coast, the Annual San Francisco OysterFest has drawn over 300,000 people since its first year in 2000, with over half a million oysters consumed. Myles O'Reilly, of O'Reilly's Pub and Restaurant in San Francisco and founder of the festival, says it best "Come on over to our new venue in beautiful Golden Gate Park for a day of fantastic music, delectable oysters and a pint or two Guinness. The day wouldn't be the same without you."
EVENT DETAILS:
13th Annual San Francisco OysterFest
Saturday, June 30, 2012
11:00 a.m. – 6:00 p.m.
Sharon Meadow, Golden Gate Park
300 Bowling Green Drive
San Francisco, California 94117
TICKETS: $35 in advance, tickets available at https://www.snagtickets.com/53654/13th_Annual_San_Francisco_Oysterfest
More information can be found on:
Facebook: https://www.facebook.com/SFOysterFest
Twitter: http://www.twitter.com/SFOysterFest
NOTE: Children under the age of 14 accompanied by a parent are admitted free.