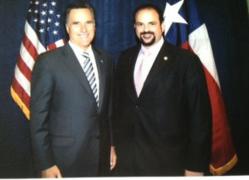 Jarkesy gave his endorsement to Romney as the push for the White House heats up.
Houston, TX (PRWEB) May 18, 2012
Nationally syndicated radio show host and Chairman of the National Eagles and Angels, met with Mitt Romney to discuss his policies and today stated, "I am very impressed meeting with Governor Romney and I believe he has just the right experience in building businesses, making payroll, and understanding the necessary fiscal responsibility that this country needs at this critical juncture in our history. We need a President of the United States that understands that the free enterprise system and the Constitution are a foundation that must be protected". Jarkesy further stated, "For an entrepreneur to build businesses like Governor Romney has, one must be an optimist. Entrepreneurship and optimism is exactly what this country needs to return to economic growth and prosperity." Jarkesy gave his endorsement to Romney as the push for the White House heats up. Their views align on several of the issues pressuring our country today such as reducing regulation, decreasing government spending, creating a business friendly environment and a strong national military.
Jarkesy believes a Romney presidency would help put America back on the right track and Romney believes that, "since I am guided by one overwhelming conviction and passion: This century must be an American Century. In an American Century America has the strongest economy and the strongest military in the world. In an American Century, America leads the free world and the free world leads the entire world."
With George's support firmly behind Mitt Romney's run for President he believes that, "Governor Romney can make a bold statement making the next 100 years better then the last 100; but the work has to start now and it starts with a Romney presidency."
About The George Jarkesy Show
The George Jarkesy Show, which discusses at length the upcoming 2012 election, can be heard Monday through Friday at http://www.georgejarkesy.com and on their affiliate stations, including The Wall Street Business Network and CRN 5. The show airs from 4-5 PM EST, and the website includes archives of each episode.
About Jarkesy & Company
George Jarkesy is a money manager and professional investor, respected financial and corporate adviser, and radio host of the nationally syndicated 'The George Jarkesy Show'. He is a frequent market commentator and guest on FOX Business News, FOX & Friends, and CNBC. George started his career in the financial services industry with a New York Stock Exchange member. George also serves on the Finance Committee of the Republican National Committee (RNC) and is an active member of the National Investment Banking Association, The Jarkesy Foundation, Helping A Hero, and Chairman of National Eagles and Angels Association.