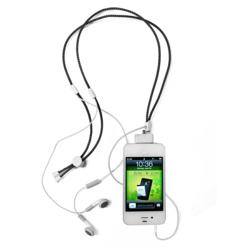 Ontrion's iHangy Music Necklace protects teens' smartphone from loss while enhancing their music enjoyment with high quality ear buds
Dallas,TX (PRWEB) May 17, 2012
If they don't already own one, the majority of teens anticipate that their next smartphone will be an iPhone. And one of the reasons so many young people favor the iPhone® is the vast number of songs they can download to the device at the Apple® iTunes store. A new product from OnTrion®, a leading provider of mobile phone batteries and accessories, aims to ensure they get the most out of their iPhone listening experience. The iHangy™ Music Necklace™ protects teens' smartphone from loss/misplacement while enhancing their music enjoyment with high-quality earbuds. It is also compatible with all iPod® models.
According to an April 2010 Pew study on teens and cell phones, 60 percent of smartphone owners under the age of 20 play music on their phones. An April 2011 Piper Jaffray survey further estimated that 17 percent of those teens owned an iPhone®, while another 37 percent planned on getting one in the subsequent six months.
The iHangy™ Music Necklace™ from OnTrion allows all these young iPhone users to listen to the downloaded music they love while safeguarding their smartphone investment. The iHangy Music Necklace drapes around the neck and comes in a range of popular colors that young people love. Color-coordinated earbuds are included as part of the iHangy™ Music Necklace™ package.
For more information on how to enhance the iPhone® music-listening experience, visit http://www.ihangy.com for product information. The iHangy is available for purchase worldwide online at http://www.ihangy.com
Follow us on Twitter: http://www.twitter.com/ihangy
Like us on Facebook: http://www.facebook.com/ihangy
###
CONTACT INFORMATION:
Palki Kochar
13650, TI Blvd., Suite #309
Dallas, TX 75243
(877)676-0877
http://www.ihangy.com