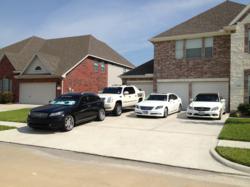 Aventura, FL (PRWEB) May 17, 2012
A shocking breakthrough has come for automotive accessories online retailer mAuto Store as the company celebrates the success of is Eyes Car Sun Shade project. The tiny startup has registered a record-breaking number of car sun shade sales that has seen thousands sold since the launch April 17, 2012.
In less than a month the innovative startup has achieved what some hope to do in a year. CEO and Founder Lester Mapp is overjoyed at the overall response to its Eyes Car Sun Shades and the company's recent performance. He said, "We think our sun shades rock but the response proves our customers think so too." While he did not disclose the exact sales figures for the car sun shades he did confirm that the numbers had reached the thousands.
The vibrant online retailer has been receiving photos from customers of their newly purchased products proudly displayed in their cars so to say that mAuto Store's customers are thrilled does not fully capture their excitement. It seems mAuto Store has hit the right nerve with its clients.
When asked how the little known startup got the attention of so many people in such a short space of time with the often ignored car sun shade, Mapp confirmed, "By using a winning combination of creative advertising and excellent customer service."
A winning feature in mAuto Store's policy is the fact that they understand that in order to stay ahead a modern business must partner with its client base. Customers are the strongest base of any research and development team because they use the products and give vital feedback that leads to modifications and improvements for the future.
There has been so little memorable advancement in the automotive accessories industry in the past few decades that mAuto Store has effectively positioned itself as the novel shopping experience its industry has been longing for. The company's recent success proves that it pays not to be average. With its unique blend of creativity, simple yet striking advertising and service excellence mAuto Store leaves a lasting impression on its clients that makes it one to watch well into the future.
mAuto Store is an online car accessories retailer and manufacturer based in Aventura, Florida. The company offers a unique online shopping experience for customers http://www.youtube.com/watch?v=P9gub-wGY-g