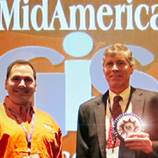 Our On-Target geospatial solutions encompass a wide spectrum of services, from imagery and LiDAR acquisition to enterprise GIS solutions,"
(PRWEB) May 17, 2012
AeroMetric was recognized as a "MAGIC Champion" at the 2012 MidAmerica GIS Consortium (MAGIC), held in Kansas City, Missouri. The award reflects AeroMetric's long term support for this organization. Greg Tilley, vice president, who accepted the award on behalf of AeroMetric, said, "This award acknowledges AeroMetric's commitment to this important regional GIS forum. MAGIC is a great place for a firm like AeroMetric to showcase its world-class GIS consulting capabilities."
AeroMetric has a long track record serving state and local governments, public utilities, and a wide variety of private and government organizations. "Our On-Target geospatial solutions encompass a wide spectrum of services, from imagery and LiDAR acquisition to enterprise GIS solutions," said Antonio Montoya, vice president, marketing.
About the MAGIC Symposium
Every two years, MAGIC sponsors a symposium focusing on GIS education and advancing spatial technologies. During each symposium, MAGIC recognizes and honors organizations and individuals that have made especially noteworthy contributions in the Mid-America region, as well as those private organizations that regularly support the biannual symposium.
About AeroMetric
AeroMetric, Inc., is a full-service geospatial solutions company built on over eight decades of consistent, quality service and enduring client relationships. The firm offers a comprehensive range of on-target geospatial solutions including the latest in photogrammetric, lidar, satellite and airborne imaging technology and has earned a reputation for technical excellence, superior service, and on-time, on-budget delivery. For more information please call 1-800-558-6707 or visit http://www.aerometric.com.