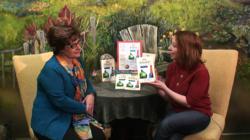 Caution: You will dream big again.
(PRWEB) May 18, 2012
Margaret Mead said it best -- There is no greater power in the world than the zest of postmenopausal women. So why do we sense the welcome mat is pulled out from under us at work? Armed with unprecedented education and experience, women approaching their "zenith" years face signficant obstacles to staying in the game -- particularly since the crash of 2008.
"55+ Unite!" by Georgian Lussier is a shot in the arm for older working women -- citing current thought leaders, sharing the author's own job ouster at 58, and outlining the career profiles of 5 successful women age 55+ provides a hopeful perspective. Women are encouraged to count their fierce friendships as secret weapons, and to catalog the terrific traits that have gotten them this far.
Many women read the book non-stop, in about two hours. One fan finished the book, patted herself on the back, and ate a carton of chocolate ice cream, guilt-free.
Hear the author talk about the "3 Betties" on this 30-second promo video.