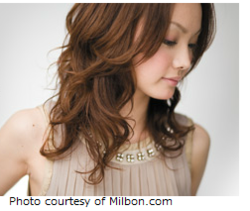 The Air Wave creates a soft, bouncy, large curl.
Fairfax, VA (PRWEB) May 17, 2012
Salon Khouri, a top rated Northern Virginia hair salon located in Fairfax, VA, has announced an innovative new perm service called the Air Wave perm.
"This is the complete opposite of perms of previous decades," states Liscio Certified hairstylist Orie Hanrahan. The Air Wave perm creates a soft, bouncy, large curl. Unfortunately, the Air Wave perm isn't suitable for all hair types. "This perm is perfect for clientelle with thick or coarse hair," states Orie.
Salon Khouri offers complimentary consultations prior to the service that includes a detailed hair analysis to determine if the Air Wave service is right for your hair type. The Air Wave service is $145 on the Salon Khouri a la carte menu. You can read more about the Air Wave service on the Salon Khouri blog.
For more information about any of Salon Khouri's products, services, or community efforts, call 703-273-7878, view the salon on the web at http://www.salonkhouri.com or visit 11725 Lee Highway in Fairfax, VA.
About Salon Khouri
Salon Khouri was founded in 2005 and is located in Fairfax, VA. The salon offers a full menu of hair services and is a top-rated salon in the Northern Virginia area. Owner Jonathan Elkhouri has trained with Nick Arrojo at his SoHo, NY studio and is a stylist to several Washington DC celebrities. Services include haircuts, colors, highlights, keratin treatments, extensions, and waxing.