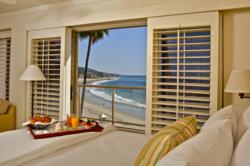 The Inn at Laguna Beach brings together all of the features that have made Laguna the iconic center of California cool for decades – art, surfing, fresh cuisine, sand, sun and a relaxed outdoor lifestyle.
Laguna Beach, CA (PRWEB) May 17, 2012
On June 1, 2012, just in time for the summer season, Inn at Laguna Beach will unveil a multi-million dollar, environmentally-sensitive, comprehensive renovation. Located in the heart of Laguna Beach in a perfect seaside location adjacent to Main Beach, the beloved Inn has been renovated and re-designed for guests who want a taste of the real Laguna Beach. The Inn at Laguna Beach brings together all of the features that have made Laguna the iconic center of California cool for decades – art, surfing, fresh cuisine, sand, sun and a relaxed outdoor lifestyle.
"The renovation of Inn at Laguna Beach was a great opportunity for us to make a classic beach Inn an even better version of itself, but also for it to stay true to what it is – a fun, fresh place to enjoy the beach spirit of Laguna," said Matt Crow, CEO of Classic Hotels & Resorts. "There are plenty of sequestered, ultra-luxury resorts in the area, and several value-driven lodging options, but none with the combination of location and luxury that we are now able to offer. We want to delight the guest who wants to be in the center of town, on the beach with an upscale experience for a vacation getaway, a business retreat, or a seaside wedding."
Every area of the Inn has been redesigned and updated. Guests will notice design and décor improvements immediately upon arrival to the property, with a new entry experience accented by redesigned landscaping and resurfacing of the main driveway. The lobby, with its expansive views to the Pacific Ocean, received a complete redesign, accented by coastal chic décor in a comfortable and homey setting, encouraging visitors to relax and enjoy the unique overlook. While the natural setting of the Inn along side Heisler Park and Main Beach is the main attraction, guests will notice significant improvements in their rooms, which have been completely redesigned. Each guest room received new bamboo wood case goods, rattan style bed frames with crisp 250-thread-count sheets, and locally inspired beach and surf photography. Guest room bathrooms received new bamboo wood vanities, frameless glass shower screens and new tile, sourced from a supplier that utilized 30% recycled stone; a design decision which supports Classic's commitment to more sustainable and environmentally sensitive building practices.
Public areas have also been updated, including the pool deck and the rooftop Pacific Terrace, both overlooking the beach. The Pacific Terrace, with all new surfacing, wood framed banquettes and rattan style furniture, serves as the perfect venue for a wedding, and in fact is the only oceanfront wedding location in North Laguna. To make sure all weddings and events are handled seamlessly, there is an on-site wedding specialist. The Pacific and Laguna rooms, two venues ideal for meetings and intimate weddings have also been redone with the same relaxed beach style as the rest of the Inn.
Guests enjoy freshly prepared California cuisine at breakfast on the Pacific Terrace, as well as in-room dining, also new to the Inn, and evidence of management's commitment to guest service. Libations and light fare are available from the Poolside Bar. The Inn also has the ability to prepare customized menus for each group, meeting, wedding or event hosted on property. Guests enjoy complimentary coffee each morning in the lobby, and a nightly wine hour where guests are invited to linger and mingle. There are more than 40 fine restaurant and dining options within walking distance from the Inn, and the hotel is next door to one of Orange County's most popular Mexican restaurants, Las Brisas.
Classic Hotel's commitment to the environment was considered at each available opportunity during the renovation. The redevelopment team included an in house Sustainability Manager, which allowed the development team to integrate sustainable building techniques and responsible sourced materials throughout. Key environmental elements of the redevelopment included:

Dual Flush Toilets
Low Flow Faucets & Showers
Low VOC Paint
Renewable Bamboo Furniture
Tile Sourced from 30% Recycled Material
Carpet Padding Made of Recycled Material
High Efficiency Appliances – Refrigerators, Fans & Hair Dryers
High Efficiency Fixtures & CFL Bulbs
100% of Old Furniture & Fixtures Donated
Coordinated Recycling Program for All Departments
Recycled Post-Consumer Waste Toilet & Tissue Paper
Eco-Friendly Cleaning Products
Water Filtration System for Employee Use
Steel Water Bottles for Guest Purchase and Water Stations Throughout
Old Linen Provided to Textile Recycling Company
100% Sustainable Birch Wood Key Cards
Soy Ink Printing on Recycled Paper for all Collateral Materials
Set Points on In-room Thermostats
Classic Hotels & Resorts has appointed Peggy Trott as general manager of the property. A veteran of Kimpton Hotels, she has fun woven into her DNA, making her the perfect choice to run Inn at Laguna Beach. The Inn is accepting reservations for leisure stays, weddings, meetings, groups and other events. Nightly room rates begin at $319 (US). Reservations can be made by calling 1-800-544-4479. The Inn at Laguna Beach is located at 211 North Pacific Coast Highway, Laguna Beach, CA 92651. The local telephone number is 949-497-9722. http://www.innatlagunabeach.com
About Classic Hotels:
The Inn at Laguna Beach is managed by Classic Hotels & Resorts (CHR), an affiliate of Grossman Company Properties (GCP). GCP is one of the premier commercial and residential developers in the Western United States. During the past 50 years, GCP has built, developed and managed more than 14 million square feet of high-quality properties, including Arizona Biltmore Resort & Spa, Biltmore Fashion Park, La Playa Carmel and the Phoenix Spectrum Mall. Additional information is available at http://www.classichotels.com.