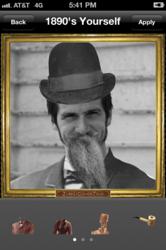 Everett, WA (PRWEB) May 17, 2012
Zumiez, a leading specialty action sports retailer, is bringing free skateboarding and music to the palm of your hand this summer with the free Zumiez Couch Tour 2012 mobile app. Users can take photos within the app and "1890's themselves" by adding old timey elements like bowler hats, mustaches, a pickaxe, and more before easily sharing their photos with Facebook, Instagram, and Twitter.
The free app also gives users the ability to stream all 12 stops of the Zumiez Couch Tour live. The Zumiez Couch Tour 2012 features skateboarding demos by pros Justin Brock, Mike Mo Capaldi, Chris Cole, Erik Ellington, Cairo Foster, David Gonzalez, Eric Koston, PJ Ladd, Sean Malto, Billy Marks, Rodney Mullen, Chad Muska, Luan Oliveira, Torey Pudwill, Paul Rodriguez, Leo Romero, Geoff Rowley, Tommy Sandoval, Daewon Song, Jamie Thomas, Ishod Wair, Neen Williams, Stevie Williams and many more.*
Live music performances from We Came As Romans, Set Your Goals, The Wonder Years, The Cab, A Skylit Drive, The Classic Crime, Conditions and Daytrader will also be streamed for free within the app via Ustream.
Download the iOS version of the Zumiez Couch Tour 2012 App here:
http://itunes.apple.com/us/app/zumiez-couch-tour-2012/id524160211?mt=8
Download the Android version of the Zumiez Couch Tour 2012 App here: https://play.google.com/store/apps/details?id=com.seedlabs.zumiez&feature=search_result#?t=W251bGwsMSwyLDEsImNvbS5zZWVkbGFicy56dW1pZXoiXQ
For more information visit: http://www.zumiezcouchtour.com
About Zumiez Inc.
Zumiez is the leading mall-based retailer of action sports clothing, footwear, equipment and accessories. Everything we do— from the brands and styles we carry, to the environment in our stores, to the events we create and partner with— is focused on supporting and promoting action sports and the action sports lifestyle. Our website is