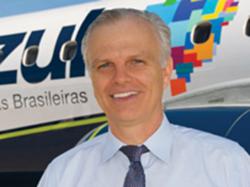 It is important to remind people that children with learning disabilities are among our brightest and most gifted.
Westport, CT (PRWEB) May 21, 2012
Smart Kids with Learning Disabilities, Inc. (SKLD), the Westport, CT-based nonprofit organization, is pleased to announce its 12th anniversary benefit on the evening of June 8th at the Stepping Stones Museum for Children in Norwalk, CT. "The Sky's The Limit" benefit will celebrate the limitless potential of children with learning disabilities and ADHD through presenting the organization's ninth annual Youth Achievement Awards, recognizing the outstanding accomplishments of students from seven states and Europe.
David Neeleman, founder and CEO of Azul Brazilian Airlines, as well as the founder of JetBlue Airways as well as will host the award ceremony. Neeleman, who has frequently discussed his own struggle with ADHD and learning disabilities, served as the first Honorary Chairman of Smart Kids with Learning Disabilities. The 2012 Smart Kids Youth Achievement Award will be presented to Clinton Berry of Owensboro, KY who credits his reading and writing disabilities, identified in first grade, with motivating him to set high goals for himself. Berry, 18, has been honored with both academic and public service awards, and is determined to help change the perception of students with learning disabilities through telling his own story. Elliott Sabbagh, 18, of Ann Arbor, MI will accept a Special Recognition Award for his accomplishments as a violinist, and as a DJ and hip-hop radio show co-host. Also to be honored at the event are Lauren Birbarie from Branford, CT; Brian Meersma from Princeton Junction, NJ; Ali Siegele from Berwyn, PA; Maxence Mouries from Falls Church, VA; and Cameron Shockley-Okeke from Norwalk, CT.
Kicking off the festivities, guests will enjoy signature martinis courtesy of Grey Goose and Bacardi USA, hors d'oeuvres, buffet dinner, and dancing under the stars in the Museum courtyard with the Gold Coast award-winning Voodoo Carnival band. Guests will have the opportunity to bid on a wine auction, a silent auction and a live auction conducted by Greg Zaic, a general partner of Nexus Medical Partners who has raised millions of dollars for charities as an auctioneer. The live auction includes an opportunity to name a character in actor and author Henry Winkler's next "Ghost Buddy" title; a 4-night stay in a 3-bedroom Durango, CO ski-in, ski-out condo; a weekend getaway for two including tickets to a New York Philharmonic concert, dinner and 2 nights at a W Hotel; an interactive Dinner for Six by Chef Jonathan Mathias of A Dash of Salt; a 3-night stay in a Mount Snow, VT condo; and a private virtuoso cello and piano performance in the winner's home, followed by dinner for 10.
Guests may purchase tickets for $175 at the SKLD web site at http://www.smartkidswithld.org/annual-benefit-gala or by emailing Info(at)SmartKidswithLD(dot)org or calling (203) 226-6703. The evening's premier sponsor is Lindamood-Bell Learning Processes in Darien, CT.
About Smart Kids with Learning Disabilities:
Smart Kids with Learning Disabilities, Inc. is a Connecticut-based non-profit organization providing information, support, and encouragement to families of children with learning disabilities and attention-deficit disorders, while also educating the public about these children's significant gifts and talents. Its comprehensive website at http://www.SmartKidswithLD.org, free e-newsletter and educational programs promote parents' critically important role as advocates for their children. Henry Winkler, the award-winning actor, director and producer serves as the organization's Honorary Chairman.