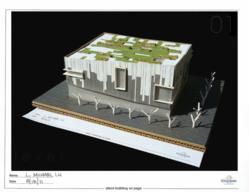 The Legacies Are Built competition is an invitation to push the envelope – to create smart, design-driven buildings...
Washington, DC (PRWEB) May 17, 2012
Kingspan Insulated Panels North America, a global manufacturer of insulated metal panels for building construction, has announced that they will feature their Legacies Are Built design competition at the national AIA Convention (booth #505). In addition to a showcase of the winning designs from the 2011 competition and an opportunity to meet the winner, the intern and architectural student L. Michael Lu, Kingspan will announce the details of the 2012 competition, which includes the addition of a design professional category.
With a focus on the use of sustainable materials for a variety of building types, the Legacies competition challenges contestants to create a paper craft model that represents a building utilizing Kingspan's Benchmark Designwall series as the building envelope. Submissions are grouped by categories including Commercial, Institutional, Industrial, Retail and (low-rise) Corporate.
"As a global leader in the development of cutting-edge insulated panel and roof systems, Kingspan is constantly challenged to create products that push the envelope both technically and aesthetically," said Andrea Peters, marketing director at Kingspan. "The Legacies Are Built competition is an invitation to both student and design professionals to also push the envelope – to create smart, design-driven buildings that are sustainable, energy-efficient and visually appealing."
Voting for the entries is open to all, and will be conducted beginning in August online at http://www.legaciesarebuilt.com. When the contest is closed, the top five entries from both the professional and student categories that have received the most votes willgo to a final round where a panel of architects, university faculty and industry experts select the competition winners.
Winners will be announced at Greenbuild Expo in San Francisco this November, where the winning designs will be on display. Prizes for the student winner include a $5,000 scholarship towards tuition fees, while the professional winner receives a fully loaded workstation valued at $5,000, which includes an Apple® MacBook® Pro, an iPad®, mechanical pencils, design software and a selection of books. Top winners will appear in on the web and in professional magazines, and the designs will be published fully in Kingspan's Design Guide. Runner-up winners will receive an iPad® loaded with relevant design applications.
Legacies are Built 2011 winner: L. Michael Lu, Arizona State
L. Michael Lu, architectural intern with CH2M Hill and a student in architecture and urban design at Arizona State University in Tempe, Ariz., won the coveted first place prize. Lu's design masterpiece was created for the New Orleans School of Music, and the structure was inspired by the piano and the decibel. Designed using silverstorm and bone white Kingspan Benchmark Designwall(TM) Series 2000 and 4000 insulated metal panels, Lu intends the building to showcase the resilience and timelessness of Kingspan product lines.
"Insulated panels of varying lengths and depths form a topographic building envelope that reflects the dynamism of piano keys while also reducing heat gain," said Lu. "These panels are included at different thicknesses both to create interesting shadows and to follow the same language of the piano keys. Kingspan flushglaze windows are used throughout the project."
Runners-up were Daichi Yamashita, an architectural design student at the University of Toronto, and Cvetan Nachev, an architecture student at Mercer County Community College in New Jersey.
The 2012 competition opens in August. All entries must be received by October 31st. To learn more about the competition, register online and download materials, visit http://www.kingspanpanels.us/legacies.
To learn more about Kingspan and their Benchmark Architectural products, including the Benchmark Designwall Series 2000 and 4000 insulated metal panels, visit the company at http://www.kingspanpanels.us.
For more information, interviews and images, please contact Chris Sullivan at (914) 462-2096 or chris(at)ccsullivan(dot)com.
Follow Kingspan on Facebook and on Twitter: @KingspanIMP.
About Kingspan Insulated Panels North America
Based in Deland, Florida, Kingspan Insulated Panels North America is a global leader in the manufacturing of insulated metal panels, providing unsurpassed service to U.S. and Canadian markets as well as export destinations. The company has five North American production locations: Deland, Fla., Modesto, Calif., Columbus, Ohio, Caledon, Ont. and Langley, B.C. Kingspan insulated panels are manufactured as a single component system with high R-value, unsurpassed airtightness and superior moisture control suitable for new and retrofit buildings. As the most energy-efficient, cost-effective building envelope solutions, insulated metal panels are at the forefront of sustainability. Kingspan insulated metal panels are a significant first step to achieving net-zero energy building and consistently contribute to U.S. Green Building Council (USGBC) Leadership in Energy and Environmental Design (LEED®) credits and overall certification. Kingspan Insulated Panels serves the architectural, commercial/industrial, cold storage and food processing markets, and is committed to delivering the most advanced building products on the market. For more information, visit http://www.kingspanpanels.us and http://www.kingspanpanels.ca.