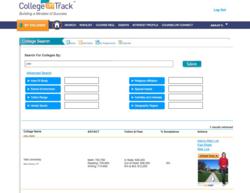 "This gives students and parents a better understanding of what campus life is really like."
Palo Alto, CA (PRWEB) May 23, 2012
It's the end of spring; college planning is over, acceptance letters have gone out, and applicants are choosing their colleges. Many make this decision after stressful, expensive family tours of far-flung campuses. Trying to minimize travel costs, they see several colleges on each trip. At some point the details start to run together. Now a new partnership with YouVisit lets CollegeOnTrack students and families explore multiple campuses from home.
YouVisit, a leader in the field of virtual campus tours, is currently working with over one hundred public, private, large, and small partner schools across the United States; and enabling institutions such as Yale, the University of California, and Brandeis to showcase their campuses to prospective applicants from all over the world.
YouVisit's campus explorations offer realistic walking tours, 360 degree environments, video content, and photos. As users enter the on-screen walking tours, virtual campus tour guides highlight monuments, historical buildings, dining halls, dormitories, libraries, nearby shopping centers and more. Video and photos show the different student activities taking place in locations along the tour. YouVisit's Ari Mandelbaum says, "This gives students and parents a better understanding of what campus life is really like." They can review information, make notes, and compare campuses easily.
CollegeOnTrack users already have access to college fact sheets detailing student body profiles, graduation rates, support services, and more; along with admissions likelihood calculators. The new campus tour feature extends these research tools and allows applicants to virtually tour schools they might not have the time or money to visit in person.
The new campus tour capability is available now at no extra charge to CollegeOnTrack users.
About CollegeOnTrack
CollegeOnTrack was established in 2010, to provide college planning tools for families, schools, and counseling firms. It offers a combination of comprehensive college data, collaboration support, and task management that helps students build a mindset of success as well as create strong college applications. The company was a semi-finalist in the 2011 Berkeley Business Plan competition.
CollegeOnTrack ran successful tests last year at Wilcox and Independence High Schools in Santa Clara County, where students and teachers have been enthusiastic about the product. It was released to the public in January, 2012.
For more information about this topic, or to schedule an interview, contact Philip Roybal at (408) 782-4244, or phil(at)collegeontrack(dot)com.