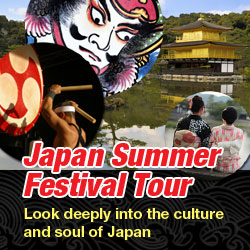 AFFORDABLE, YET WORTHFUL VACATIONS TO JAPAN
(PRWEB) May 17, 2012
All Japan Tours offers special Japanese festival tours and unlimited possibilities to explore and experience an unforgettable trip to Japan.
Festivals are an important aspect of Japanese culture and can range from spiritual to celebratory.
Most festivals are held annually to honor a shrine's deity, a seasonal occurrence, or a historical event. Festivals can last several days.
Two important aspects of Japanese festivals are processions and floats. During religious celebrations, a local shrine's Shinto deity, or "kami," is carried through the town on palanquins.
This is the only time of the year when a kami leaves the shrine. Festivals also often feature decorated floats, called "dashi," which are pulled through the town and accompanied by live, traditional music.
Each festival has its own charms and can range from quiet and reflective to noisy and jubilant.
Whether tourists are interested in cherry blossom tours, festival tours or cultural tours, their Japan vacation packages will bring vacation dreams to reality.
Choose tours based on price, interest, or season.
The Japan group tours are fully escorted and they can also arrange special-interest private tours, custom group tours, business (MICE Japan) and educational tours.
Whatever tourists' interest is, All Japan Tours can create the right Japan itinerary.
When they consider the costs, hassles, and uncertainty of traveling on their own, they'll discover how an All Japan Tours vacation is like no other.
Everything has been arranged in advance, from itinerary to hotel accommodations, so all you have to do is take in the breathtaking scenery.
No need to worry about getting lost or finding transportation, leave the details to All Japan Tours and start having the time of life.
Book a Japan tour with them and start unforgettable journey today!
All Japan Tours is the only Japan Specialists in the US, with a Japan office and their own coaches, providing fully escorted Japan tour packages, custom Japan vacations, luxury private tours, special-interest tours, business and educational programs to match tourists' requirements. They know experience and expertise matters.
That's why they have professional, knowledgeable staff located in Japan and the US.
Their bilingual staff knows the best places in Japan because they themselves are locals.
# # #
For more information about this topic, please call Ching Tan at 800-490-5728 or
e-mail Ching Tan at info(at)alljapantours.com
Also visit http://www.alljapantours.com/go-season.php?sp=2 for more information.