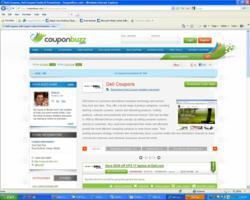 The current Dell coupon for the XPS 17 laptop...is a home-run.
Houston, TX (PRWEB) May 17, 2012
Today CouponBuzz.com featured a new Dell coupon code which offers online shoppers $100 dollars off the Dell XPS 17 Laptop, which is currently being offered for 25% off standard retail pricing after instant savings. The XPS 17 is a beautifully thin, compact computing machine with the capability to fulfill every computing need. These significant savings end soon, so for consumers considering upgrading the purchase of a laptop, now is a great time to take the leap. The new coupon code for $100 off will be highlighted at the very top of the recently launched Dell section of CouponBuzz.com, and area dedicated to the latest offers from the computer industry giant.
"We find that smart online shoppers tend to do a lot of comparison shopping when they are considering big purchases like a computer," said Justin Bowen, a spokesperson for CouponBuzz.com. "They check prices on all the competing big-name brands, and find out what features are available. We also find that some shoppers take smart to a whole new level, and after finding the computer they want, wait cannily for a major sale or coupon. If you are one of those shoppers, the current Dell coupon for the XPS 17 laptop we are highlighting in the new Dell section is a home-run. It just doesn't get better than $100 bucks off a sweet computer already on sale at 25% off."
The Dell XPS 17 laptop comes standard with Windows 7 Home Premium, which is upgradeable to Windows Professional, and 6GB of Shared Dual Channel DDR3 memory, which can also be upgraded. It has a 2nd Generation i7 Intel® Core™, and a 2.20 GHz Processor that features Turbo Boost 2.0 technology, allowing it to reach speeds of 3.10 GHz. The XPS 17 laptop has more than enough memory for all of your multimedia needs with an impressive 750 GB SATA hard drive. The NVIDIA 1GB graphic card featuring Optimus technology handles gaming, video streaming and other media functions with ease.
The 17.3 inch HD screen with LED Display turns the Dell XPS 17 into a mini-media center, no TV required. The 2.0 MP HD Webcam keeps users connected to friends, family, and gaming team members, along with a Wireless-N 1030 card and Bluetooth 3.0. The dual layer 8X CD/DVD burner ensures high quality output when users want to share all of the great media they are creating and enjoying.
In addition to all of the great technology on the inside, the Dell XPS 17 also looks sleek and sexy on the outside. Users can increase the form factor slightly by opting to upgrade to a 9 cell lithium ion battery (6 cell is included). Depending on usage habits however, this particular upgrade is almost a no-brainer, moving the laptop from 5+ hours of battery life to 9+ hours. CouponBuzz.com site visitors can find the Dell coupon code for $100 off the XPS 17 laptop at the top of the dedicated Dell coupons web page, located here http://couponbuzz.com/dell-home-coupons.html.