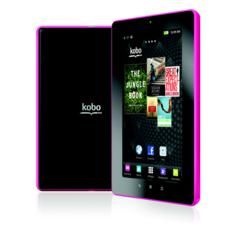 Readers across the globe can now download all seven must-have Harry Potter eBooks to their Kobo libraries, and can choose from English, French, German, Italian, or Spanish—with more languages to come.
Toronto, ON (PRWEB) May 17, 2012
Kobo Inc., a global leader in eReading, today announced that J.K. Rowling's bestselling Harry Potter book series is now available to Kobo customers. Readers across the globe can now download all seven must-have Harry Potter eBooks to their Kobo libraries, and can choose from English, French, German, Italian, or Spanish—with more languages to come. Customers can buy the eBooks from J.K. Rowling's Pottermore online store by visiting http://www.kobo.com/harrypotter.
In keeping with Kobo's philosophy of read anytime, anyplace, this exciting series can be read on the award-winning Kobo Touch™ eReader and the Kobo Vox™ eReader tablet. In addition, customers can also use Kobo's free eReading apps available for iPad, iPhone, Android, Mac, PC, and BlackBerry. Kobo apps automatically sync readers' libraries across all their devices—this way, they will never lose their place in Harry Potter's epic adventures of wizardry and magic. Unique to Kobo, readers will also be able to track their progress in books with awards from Kobo Reading Life™, and share their thoughts on exciting passages with Kobo Pulse™. In addition, Kobo is the official eReading partner of Facebook™, letting readers easily update and chat with friends about Harry and his friends on Facebook.
"We're excited to bring together the extremely successful Harry Potter phenomenon and the always-enthusiastic Kobo eReading community. Fans have been waiting for years to see the Harry Potter series in digital and now that wait is over," said Michael Tamblyn, Executive Vice President Content, Sales & Merchandising, Kobo. "Best-selling author J. K. Rowling has captured the imaginations of book lovers everywhere, and we couldn't be more excited about bringing her vision to the Kobo reading experience."
"Kobo is an increasingly powerful player in the eReading market and we are delighted to have them on board," said Charlie Redmayne, CEO, Pottermore.
The Kobo Vox
Perfect for people on the go and those who want to blend tablet functionality with their eReading experience, the Kobo Vox offers a seven-inch, FFS+ multimedia touchscreen for a dynamic reading experience in vivid colour. Optimized for outdoor reading and with an extra-wide viewing angle for shared reading, the Kobo Vox makes the rich content offered at the Kobo online bookstore pop.
Unique to Kobo, readers can take reading to a whole new level with Kobo Pulse, sharing thoughts on passages and recommending books with other readers. The seamless integration with more than 15,000 apps, including family favourites like Facebook, Twitter, The Weather Channel and Cut the Rope, make the Kobo Vox the perfect device for those on the go.
The Kobo Touch
Built by booklovers for booklovers, the Kobo Touch offers a best-in-class reading experience, with an amazing touch experience that uses Infrared Touch Technology, allowing readers to easily swipe or tap to turn pages. With the intuitive touch interface, readers can highlight a phrase, lookup a word, zoom into an image, increase the font size, or quickly navigate through a book and an entire library. Plus, finding that next read is also quick and easy with Wi-Fi and a virtual keyboard.
The Kobo Touch eReader is available in multiple languages, and offers a localized experience, including content, recommendations, and the Kobo store. Readers may choose from English, French, Canadian French, German, Spanish, Italian, and Dutch.
About Kobo, Inc.
Kobo Inc. is one of the world's fastest-growing eReading services offering more than 2.5 million eBooks, magazines and newspapers–and counting. Believing that consumers should have the freedom to read any book on any device, Kobo has built an open-standards platform to provide consumers with a choice when reading. Inspired by a "Read Freely" philosophy and a passion for innovation, Kobo has expanded to nearly 200 countries, where millions of consumers have access to localized eBook catalogues and award-winning eReaders, like the Kobo Touch. With top-ranked eReading applications for Apple, BlackBerry, Android, and Windows products, Kobo allows consumers to make eReading social through Facebook Timeline and Reading Life, an industry-first social experience that lets users earn awards for time spent reading and encouraging others to join in. Headquartered in Toronto and owned by Tokyo-based Rakuten, Kobo eReaders can be found in major retail chains across the globe.
For more information, visit http://www.kobo.com.