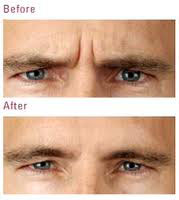 Shaft Medical offers a unique combination of Botox and radio frequency laser to eliminate hard to treat frown lines and forehead wrinkles in men.
San Diego, CA (PRWEB) May 17, 2012
Shaft Medical San Diego, the area's leading aesthetic medicine practice providing the full range of advanced cosmetic procedures, now offers the Botox No Frown San Diego procedure for men.
Botox California and Palm Springs is now increasingly being used by men, even those not currently running for President.
The number of men in the U.S. who paid to get a series of tiny injections in their face has tripled in the last five years to over 300,000, or about 7% of the total Botox'ed population. And, despite the recession, those numbers aren't going down. One of the many things the laid-off cannot afford is to look their age.
Men usually get Botox San Diego to remove those two vertical lines between their eyebrows that make them look angry and confused. They also use the product to smooth out the horizontal creases in their foreheads, though, unlike women, they don't tend to worry about crow's feet. Men do, however, fret a lot more about the pain. "They get so jacked up worrying that it will hurt," says Botox enthusiast and nine-time Olympic gold medalist Mark Spitz. "Maybe that's why women have babies and we don't."
When 1970s Olympic heroes--and mustachioed ones at that--get work done, it would seem to mark social acceptability among guys. Spitz, though, is a spokesman for Allergan, the company that makes Botox and markets directly to men via its website. Sure, Spitz first considered getting the world's most common cosmetic procedure after a friend, former Olympic gymnast Nadia Comaneci, told him that the wrinkles between his eyes made him look old and overly serious, but he got a whole lot more interested when Allergan started paying him.
Who, then, are the other 299,999 guys getting Botox? And are any of them not famous or running for some high profile office or another?
Let's talk about the typical Botox California client, we'll call him Joe the Teacher (he moved some time ago from his previous gig as a plumber). Joe is a high school teacher, somewhere in his 40's (he isn't saying exactly), and lives in Southern California.
Joe's reason for getting Botox becomes obvious when in 7-10 days the treatment Botox erases the furrowed brow lines in addition to the "11s" between the eyebrows.
When combined with the Alma Accent XL laser, even men's hard to treat wrinkles will fade away.
The Alma Accent XL is a unique, virtually painless, radio frequency (RF) device FDA-approved for the non-invasive treatment of wrinkles, skin tightening, and reduction in the appearance of cellulite.
The Accent XL combines two proprietary RF mode handpieces, BiPolar and UniPolar, that provide therapeutic heat at different tissue depths within the body. The BiPolar handpiece creates local, superficial dermal heating on delicate areas, such as the face. The UniPolar handpiece provides deep dermal and subdermal heating of larger areas.
For both the superficial and deep RF modes, Alma's exclusive IN-Motion Technology represents a breakthrough in patient comfort, speed of procedures and consistent clinical results. By providing a gradual thermal rise to the target therapeutic temperature, the risk of patient injury or discomfort is dramatically reduced.
ABOUT SHAFT SAN DIEGO
Specializing in the very latest advanced aesthetic medicine procedures Shaft Medical San Diego features NeoGraft Scar Free Hair and Eyebrow Transplantation and MiXto SX Fractional Skin Laser for acne scars, skin rejuvenation, and nonsurgical "lift" of the face, eyes neck and chest. Our practice also offers PureLight Cellulite Heliotherapy, Alma Accent XL Radio Frequency Skin Tightening, PowerX and Lipotherme Minimally Invasive Liposculpture Surgery, LAVIV Skin Cell Cloning Therapy and NeoGraft LTS Acne Cold Laser as well as BOTOX, Juvéderm, Radiesse, LATISSE for eyelash growth, and varicose vein and spider vein treatment. SHAFT's modern and highly discrete office serves clients throughout Southern California including San Diego, Orange, Riverside and Los Angeles counties, and the Palm Springs area.
For more information about San Diego Botox and Men's Cosmetic Services, please see the Company's website at http://www.shaftsandiego.com.