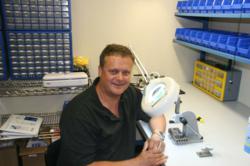 I remember times when dental handpiece repair wasn't so easy. Now, I'm happy I can help alleviate some of the stress...
(PRWEB) May 17, 2012
With 20 years of experience working in his father's dental practice and repairing anything and everything from water lines to vacuum systems and of course handpieces, Ken Groba, has fine tuned his repair skills, and now offers a wide range of free services along with professional dental handpiece repair. His passion for dentistry has led him to develop an effective system of repairing handpieces that will allow dentists to not only maintain their productivity, but also reduce their expenses, with fast turnaround time and 4 to 12 month warranties depending on the type of handpiece.
Ken underwent various training courses in dental handpiece repair to hone his already impressive skills, and works with ease on high speed and low speed handpieces, as well as ultrasonic scalers. His dedication and commitment to fairness has led to his business employing a free shipping policy, as well as offering free estimates for any handpiece.
"I grew up in a dental office. I started out as a dental assistant for my father, Dr. Ronald Groba, but as time went on I found I had a knack for repairing his dental equipment. Dental handpiece repair was something I was interested in learning more about, so I went to training and now I'm able to confidently help other dentists with their dental handpiece repair needs."
The Dental Handpiece Repair Guy offers free estimates on all dental handpiece repairs. He also offers free shipping, which must follow a specific procedure. Handpieces are to be sterilized and placed into sterilization pouches. Clients are then to complete a repair form, place a copy of this along with the handpiece into an appropriate box and send it off. Ken has made the entire process of dental handpiece repair simple, effective, and always professional.
"I wanted to make things easy for my customers. My father's practice can get extremely busy and the last thing he and his staff would want is to get caught up in things that are too much of a hassle to get done. I remember times when dental handpiece repair wasn't so easy. Now, I'm happy I can help alleviate some of the stress that might be felt by a dental team when something goes different than planned."
About Ken Groba
Ken has worked in his father's dental practice for over 20 years. His father Dr. Ron Groba and his mother Marie invented The Amazing Patient Tracking System, a management tool which has been implemented into many dental practices across the nation. After working as his father's first hygiene assistant, Ken began to show an affinity for maintaining all aspects of the dental practice. This, in turn, led to his discovery about the problems faced in dentistry, and he developed a way to help dentists solve them. For further information CLICK HERE or call 800-569-5245.