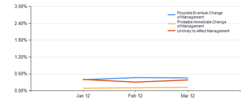 "After publicly releasing our first quarter TATs earlier this month, we thought it important for the industry to know that not only are we fast, we're accurate." Kevin Stinson - Head of Business Development.
San Diego, CA (PRWEB) May 20, 2012
StatRad, a national teleradiology provider, released it's first quarter discrepancy rates which show a remarkably low .5%. "We go to great lengths to ensure that our accuracy is the highest in the industry," remarked Kevin Stinson, Head of Business Development for StatRad.
Earlier this month we released our first quarter TATs at well below 20 minutes. This means we are not only fast, but we are incredibly accurate. StatRad's radiologists are some of the best trained in the business. "Our Radiologists' training and experience means they are able to work in a fast paced environment like teleradiology and not allow the pace to affect their thoroughness and accuracy," said Stinson.
There's a reason why StatRad's readings are 10 times more accurate than our competitors. With a stringent quality control system in place, StatRad goes above and beyond industry standards to deliver the Extensive Quality Assurance Program (EQAP). EQAP is exclusively designed to reduce discrepancy rates, increase transparency, and increase accountability. The EQAP program involves daily spot checking, multiple third-party reviews, and rigid processes. Even with the lowest discrepancy rate in the industry StatRad is making ongoing improvements to ensure our quality assurance program keeps getting better. It's just one of the many ways selecting StatRad will make your job easier.