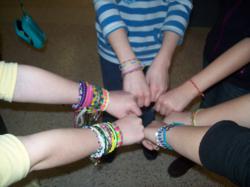 . "Without going to camp, I wouldn't have had the idea to make bracelets. Thank you to all of my camp counsellors."
(PRWEB) May 19, 2012
There are many opportunities that Ontario summer camps provide for children. Friends are made, a sense of independence is developed and new skills are learned. One exceptional camper contributed to her community by combining hard work and generosity with the skills she learning at camp.
Jessica Leonard learned how to make bracelets during her first camp experience at Kettleby Valley, a day camp and overnight camp near Toronto. "Last year, some of my counsellors made me bracelets that I absolutely loved!" she said "One of my counsellors was kind enough to give me one of her bracelets right off her wrist."
Jessica and three of her classmates from school decided that they would make the friendship bracelets to sell and raise money for young patients at Southlake Regional Health Centre and Sick Kids Hospital.
On February 18, 2012 Jessica and her friends had a bracelet fundraiser in front of a local store in the midst of a blizzard. Undaunted by the weather, the girls managed to raise
$546.81 for charity. "Without going to camp, I wouldn't have had the idea to make bracelets. Thank you to all of my camp counsellors."
Jessica will return to Kettleby Valley Camp wearing the bracelets she collected and made over the past year. She plans to continue collecting, making, and hopefully trading bracelets with staff and campers this summer.
Kettleby Valley is an Ontario summer camp and outdoor education centre located north of Toronto. They provide both day camps and residential overnight camps to families all over York Region. Families from Aurora and Newmarket have made Kettleby Valley their choice for years. For more information, please contact the camp at 905-726-4275 or go to their website .