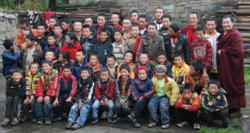 Boulder, Colorado (PRWEB) May 18, 2012
Non-profit organization Tibetan Village Project (TVP) has established a Thangka painting training center and school in Tagong city. The Tagong Thangka Center provides a home and school for 48 orphans and disadvantaged children from the Tagong area of Kham. This area is historically and culturally Tibetan, but lies within the boundaries of modern-day Sichuan Province.
The goal of the Tagong Thangka Center is to provide a general education for children with an emphasis on monastic curriculum, as most of the children intend to become monks at the monastery. TVP and the monastery also agreed to add vocational curriculum to the school, with an emphasis on teaching students to create Thangka, traditional Tibetan paintings that depict Buddhist deities, scenes or symbols on a scroll. TVP hopes that the works produced by the Thangka Center will create an appreciation for Tibetan art and culture and generate support to preserve it.
The school was founded in 2006 by Sonam Dhargye (called Apo), an accomplished monk and teacher at Tagong's Pa Lhakang monastery. After many years of studying and a three-year retreat, Apo decided to devote his time to caring for and educating children. He received permission from his monastery to start a monastic school that operates independently of the monastery.
A local Tibetan in Tagong offered to rent a home; two monks volunteered to become teachers; and an elderly man offered to become the cook. The school initially took in boys aged 6 to 16. Apo asked a nearby nunnery to look after young girls in need of similar support.
In May 2006, a group of TVP volunteers passed through Tagong to bring school supplies and clothes. The group decided that the school needed continuing support, so since that time TVP has been working to improve living conditions at the school by hiring carpenters to make beds, purchasing blankets, clothing, pots and pans; and preparing meals. In addition, TVP built two greenhouses to provide fresh vegetables for the children and the organization also provides an ongoing stipend for the center's two teachers.
As the school grew TVP decided to focus on raising funds to purchase a permanent residence for the school and the students. TVP board member Jerry Colonna, along with some of his friends, donated $75,000 towards the purchase of a two-story building with a detached kitchen and courtyard. The school is located in the heart of Tagong, a short walk from the monastery. The students moved into the new building in December 2011 and the school was renamed the Tagong Thangka Center.
Tibetan Village Project is a non-profit, non-political organization dedicated to promoting sustainable development while preserving the rich cultural heritage of Tibet. TVP's projects are small-scale initiatives that work directly with Tibetan villagers and with local government through project-coordinators chosen from each village who know the local situation, understand the culture, and speak the language.