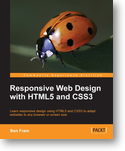 Birmingham, UK (PRWEB) May 18, 2012
Packt Publishing has met the thirst for this topic by publishing Responsive Web Design with HTML5 and CSS3, the first practical manual for web designers who want to build websites with HTML5 and CSS3 that respond to any screen size. Whether designing for mobile or large display, designing responsively using the latest powerful features of HTLM5 and CSS3 will enable the reader to make fast, powerful and maintainable websites with ease. Written by Ben Frain, an experienced front-end developer who has also authored over a hundred technology-related magazine articles over the last decade; the book is the must-have practical guide to learn responsive web design using CSS3 and HTML5.
HTML5 is the latest iteration of the language for structuring and presenting content for the World Wide Web, and is a core technology of the Internet originally proposed by Opera Software. Cascading Style Sheets (CSS) is a style sheet language used for describing the presentation semantics of a document written in a markup language. It's most common application is to style web pages written in HTML and XHTML, but the language can also be applied to any kind of XML document, including plain XML, SVG and XUL.
Responsive Web Design with HTML5 and CSS3 will guide users to understand what responsive design is, and why it's essential to master HTML5, which is leaner, faster and more semantically rich than HTML 4.01. After learning how to integrate CSS3 media queries, allowing different styles to be presented for different media, users will learn how to build a flexible layout grid and present fluid images to provide complete design flexibility. This book teaches front-end developers and designers to progressively enhance a design while providing fallbacks for older browsers
The book will teach readers optimum use of CSS3 to create background gradients, text shadows, box shadows and 3D transformations and animation with CSS3 keyframes. Readers will become acquainted with adding validation and useful interface elements like date pickers and range sliders with HTML5.
Written in a step by step manner, providing illustrative screenshots through a real example, this book is a must have for every web designer who wants to code websites in HTML5 and CSS3 that are responsive to every device or screen size. This book is out now. To read more about the book and the table of contents please visit the book web-page or Amazon listing.