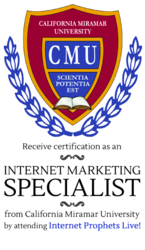 San Diego, CA (PRWEB) May 17, 2012
The California Miramar University Extension Program is proud to endorse Steve Olsher's live event, Internet Prophets LIVE!, that will be held in Chicago on June 8-10, 2012. The event is designed to deliver innovative and useful strategies from today's leading Internet strategists, thought-leaders and practitioners. Based on the Steve Olsher's exciting new book Internet Prophets, the program of this event features extensive training and professional insight from the leading industry experts.
After carefully reviewing the content of the event and the accompanying book, the California Miramar University Extension Program has decided to support the Internet Prophets LIVE! event by incorporating it as a part of the new Extension Program and offering an Internet Marketing Specialist Certification to all participants who attend the required three day sessions and successfully complete the final series of essays.
As a part of this exciting event, the world's leading experts in Internet, mobile, and more traditional marketing strategies will take stage to present their winning strategies and share the proven tools and the key information on how to implement highly effective internet and mobile marketing formulas. They will share their own mistakes and lessons learned from the unique experiences of promoting real businesses, and reveal the secrets of the most successful strategies.
The multitude of marketing tools available to businesses today is often overwhelming, and learning how to navigate this jungle is the imperative of staying on top of the competition. Those who attend the Internet Prophets LIVE! will learn how to improve conversion and sales, accelerate their marketing outcomes, and learn how to propel their businesses in the most cost-efficient way.
California Miramar University – known for its accredited online MBA programs and other reputed areas of study - supports Internet Prophets LIVE! as a valuable source of information on Internet, Social, and Mobile Marketing. In the near future, the CalMU Extension Program will begin offering a variety of programs in these important Internet, mobile and social media marketing areas including one-on-one and small group coaching sessions in many of these emerging and exciting fields. More information on CalMU's numerous extension programs will be released soon.
About CalMU
California Miramar University's School of Business & Management is one of the Top 10 MBA Schools in San Diego, California, ranked by the San Diego Business Journal. In addition to its reputed on-campus, Hybrid MBA and online MBA programs, CalMU offers a variety of other programs, including a Masters in Strategic Leadership, Masters of Science in Telecommunications Management, Masters of Taxation and Trade for Executives programs, as well as Associate, Bachelor's, and Doctor's degree programs. CalMU also stands out for having the most affordable tuition. With interest free payments many MBA students graduate debt free.
The majority of CalMU's degree programs are eligible for Veterans Affairs benefits, and qualified military spouses are entitled to a substantial tuition discount for the entire degree program.
Contact the Office of Admissions today to learn more and get started.
If you would like more information about this topic, or would like to schedule an interview with California Miramar University, please call 858-653-3000 x12 or email info[at]calmu[dot]edu.