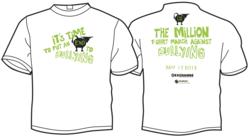 On a daily basis 160,000 children beg their parents not to send them to school because of bullying.
TROY, OH (PRWEB) May 17, 2012
One Call Now has joined forces with The Million T-Shirt March and The Olweus Bullying Prevention Program for the nation's largest and most ambitious anti-bullying rally ever attempted, The Million T-Shirt March Against Bullying.
Bullying has become rampant in our school systems with devastating outcomes for our children, and One Call Now is doing its part to find a way to stop bullying now. We are working with Tom Wild, founder of The Million T-shirt March, a program designed to raise both awareness and much-needed funds to help prevent bullying. Tom has chosen the Olweus Bullying Prevention Program (OBPP) as the benefactor of monies raised with the Million T-Shirt March.
OBPP is the most researched and best-known bullying prevention program available today. With over thirty-five years of research and successful implementation all over the world, OBPP is a whole-school program that has been proven to prevent or reduce bullying throughout a school setting.
We hope to be part of more than a million people nationwide on May 17, 2012 all wearing the same anti-bullying shirt. To further raise awareness of this issue and the event, we will also attempt to set a Guinness World Record for "the most people wearing the same shirt on the same day."
Program Coordinator, Tom Wild, said,"Everyone across the nation can take part in this rally to not only to help raise awareness about bullying, cyber bullying, verbal bullying and more – but also help raise funds for much needed programs to fight back against its spread among our families and friends. We were amazed to find out that on a daily basis 160,000 children beg their parents not to send them to school because of bullying. That translates into over 28 million "lost" instructional days per year."
One Call Now is sponsoring shirts for three school districts across the US, including Liberty, NY, Strongsville, OH, and Silver Grove, KY. Strongsville district plans to donate extra shirts and the funds raised from the event to Chardon High School, recently devastated by the effects of bullying.
100% of the proceeds raised will be used for anti-bullying awareness programs across the country. The money raised by the individual schools will stay with those schools.
About One Call Now
One Call Now is America's largest message notification provider, with 20% of American households – 55 million Americans – depending on One Call Now for messages that protect, inform and engage. With One Call Now's high-speed, fully redundant service, organizations quickly and easily send messages to thousands of people simultaneously. In addition to anti-bullying efforts, One Call Now created Kids Read Now, a national summer reading program designed to stop the summer reading slide. Founded in 2002, One Call Now has offices in six states and has been honored as one of Inc. magazine's fastest growing privately held companies in America for four consecutive years.