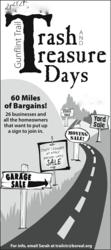 Grand Marais, Minnesota (PRWEB) May 17, 2012
If you like garage sales then you'll love Trash and Treasure Days on Minnesota's Gunflint Trail. The Gunflint Trail begins in Grand Marais, Minnesota and winds its way through the Superior National Forest for almost 60 miles before reaching its terminus. Along this paved National Scenic Byway visitors find wilderness lakes, towering pines and for one weekend out of the year garage sales.
March 19-20th, 2012 marks the 3rd Annual Gunflint Trail Trash and Treasure Days. The resorts, outfitters and homeowners along the Trail will provide plenty of opportunity for visitors to rummage around. Over 20 businesses and numerous homeowners will have their trash and treasures for folks to browse through.
Elsa Karczewski a seasonal employee of Voyageur Canoe Outfitters has been looking forward to the event since returning to the Gunflint Trail in April. "I just love to look through all of the neat stuff like clothing, souvenirs, knick-knacks, camping equipment and you even find boats and canoes for sale."
It may not be the biggest garage sale in square miles but with 60 miles of garage sales everyone is bound to find some trash or treasure to take home.