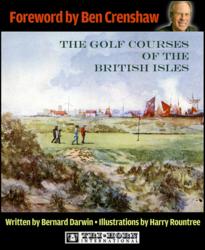 "The restored paintings by Harry Rountree are simply outstanding. Darwin had a wonderful feel for what makes a good golf hole.. so in a way, this book is his textbook for golf course architecture". Ben Crenshaw
Boston, MA (PRWEB) May 22, 2012
On the 100th Anniversary of this unique golf collaboration by Bernard Darwin and Harry Rountree, Tri-Horn International releases the first corrected version of "The Golf Courses of the British Isles" in 100 years.
A niche publisher of golf and outdoor books, Tri-Horn has carefully restored each of Rountree's 64 classic paintings. Rountree's diverse subjects and paintings capture the game as it was exploding on the British Isles and "across the Atlantic" at the turn-of-the-century. The color eBook, with a Foreword by Ben Crenshaw, makes this golf classic available and accessible to a new generation of golfers, providing a real window into the game as it was developing from 1860-1915.
Using traditional techniques, and state-of-the-art technologies, developers have painstakingly returned the vibrancy, shadows and colours to the 64 images found in the book (which had been battered by time). Also included in this edition is a painting of "Scotty", by Anne-Marie Bouvier which heads the 9th chapter of the book.
Interactive eBook Highlights:

64 carefully restored watercolours, oils & charcoals by Harry Rountree.
Compact edition, on-the-go book, great traveling companion.  
264 pages by Bernard Darwin re-set and optimized for display on ALL digital devices.
Foreword by Ben Crenshaw.
"Interactive Gallery" displays paintings separately within iPad version.    
Old world framing of lost & legendary courses.
Extras! 
Now available on any electronic device this color eBook is portable and should be the cornerstone to any golfer's electronic library. Available May 1st at the Apple iBookstore, Barnes&Noble and Amazon.com.
Visit Tri-Horn International, or contact at tel. 617.697.3700 for Sample ePUB or "Before & After" images.