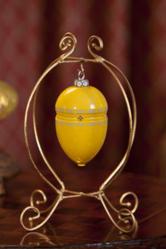 "Urnaments draw us to where the happy memories of our loved ones and pets reside"
Glen Rock, New Jersey (PRWEB) May 19, 2012
Urnaments LLC launches new memorial urn product with high expectations. The colorful keepsake urns with the clever name, tastefully designed in the style of a holiday ornament, are rapidly being showcased by crematory and online urn stores across the country. Pet shops and veterinarian hospitals are also beginning to inquire about selling directly to their patrons.
"This is a very exciting moment for us," says Michael Martino, Founder and President of Urnaments LLC. "Until today, the memorial urn industry for people and pets has not had the opportunity to offer anything remotely close to my product. Their warmhearted appeal clearly connects with people."
The connection is novel, for sure. Combining decorative colors with a multifunctionality that allows loved ones and pets to be memorialized in so many expressive ways is something unique in an industry that is growing each year as the choice to cremate increases. In fact, in 25% of the states (Maine, Florida and Washington among them) cremations already exceed burials.
The uphill battle now lies in acceptance of the Urnament by people for people, and not solely for pets. "Many in today's bereavement industry (funeral parlors, cemeteries.....) are still sitting on the fence," says Mr. Martino. "They know the revenue they are losing by the ever declining choice to have a traditional burial cannot be made up completely by selling urns. Quite simply, cremations are much less costly, and the last thing funeral homes want to offer is a moderately priced keepsake urn where the profit margin will be low."
This summer Mr. Martino plans a media blitz starting with print advertisements in several publications including Pet Product News international, the influential monthly magazine for the professional pet industry. With the arrival of Urnaments and Pet Urnaments now accomplished, he is also focusing on Phase II. In January, Urnaments' online store will offer a "digital photo option" where a loved one or pet's picture can be printed directly onto an Urnament.
In the meantime, the Phase I launch of Urnaments and Pet Urnaments is underway with more coast to coast retail venues being sought everyday.
Urnaments LLC was founded by Michael C. Martino in 2010. All engineering / prototyping / designing of the Urnament was completed in November, 2011. Urnaments were designed for the growing market of people seeking to commemorate their departed loved ones and pets in a more heart warming and expressive way. By matching their decorative appeal with an eyelet at the top, Urnaments can displayed on a Christmas tree or anywhere else in the home.
For more information, visit http://www.urnaments.com