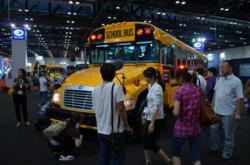 Blue Bird is still exploring potential partnerships for the Chinese market.
Fort Valley, Ga. (PRWEB) May 17, 2012
Blue Bird is pleased to exhibit at the 2012 China Bus, Truck and Component Expo in Beijing, China, May 16-18.
On display in the Blue Bird booth is a 2012 Blue Bird Vision school bus. Already meeting Chinese safety specifications, the Vision school bus can be customized to various body lengths to accommodate passenger capacity needs. Additionally, Blue Bird offers a wide range of configurations and options to fit the Chinese market, including wireless internet, geo-fencing, air conditioning, seat belts, and special needs lifts.
"Blue Bird is excited to be back in China attending the Bus, Truck and Component Expo in Beijing. We learned a lot about the Chinese school bus market from our previous February visit and were grateful for the extended hospitality from the Chinese community. We have listened to the Chinese citizens outline their needs for a safe school transportation system and have been working on a product that will meet and exceed the needs of the people while providing Blue Bird's signature safety, reliability and durability," said Phil Horlock, President and CEO of Blue Bird Corporation.
This is not Blue Bird's first visit to China and certainly not its last. Blue Bird Executives participated in the first ever China International School Bus Development Forum and Exhibition held in February. As the only American manufacturer present, Blue Bird was honored to meet with key central and provincial government officials and outline the key fundamentals of the safe American school bus transportation system.
"Blue Bird is still exploring potential partnerships for the Chinese market. While we have not signed any agreements at this time, we certainly are looking at all the options and will make an official announcement when this occurs," said Phil Horlock.
To learn more about Blue Bird's complete line of school buses, visit http://www.blue-bird.com.
About Blue Bird:
Blue Bird offers a complete line of Type A, C and D school buses in a variety of options and configurations. For more than 85 years, Blue Bird Corporation has continued to set industry standards with its innovative design and manufacturing capabilities. Additionally, Blue Bird provides comprehensive financial solutions through Blue Bird Capital Services. Today, Blue Bird has more than 1,500 employees, Georgia-based manufacturing facilities and an extensive network of Dealers and service-parts facilities throughout North America. Its global presence can be seen in more than 60 countries through sales into Africa, Asia, the Caribbean, Latin America, Europe and the Middle East. For more information, visit the Blue Bird Corporation web site at http://www.blue-bird.com.