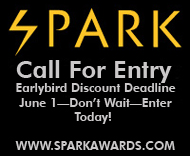 design firms need to get it out there...
New York, NY (PRWEB) May 24, 2012
Answering the urgent call of graphic designers, the Spark Design Awards have initiated a distinctive new competition dedicated to all types of communication design. As Spark Director Peter Kuchnicki relates, "We've heard from our community in no uncertain terms, that they were not being well-served by their current professional design competitions." He continued, "Too esoteric in their criteria, too expensive and disconnected from the needs of the modern communications design firm—these are the comments we heard repeatedly in regard to these events."
Design award competitions are critical forms of promotional outreach for designers, according to industry sources. Design firms need to "get it out there" according to Jury Chair Kit Hinrichs, internationally famed communication and brand designer. "This competition is not about patting ourselves on the back… it's about raising awareness of the value of design within our culture."
To better serve this need, The Spark Awards, now in its sixth year of events, has issued it's "Call For Entry" for all forms of communication design. "From traditional print media, to all forms of digital and web interface design, to game and motion design—that's how we define Spark:Communication," Kuchnicki stated.
Entries are already coming in at http://www.sparkawards.com during this, the Earlybird Discount phase of the competition (ending June 1). Savings on entry fees of up to US$100 can be obtained for fast-acting firms. (Standard pricing begins June 2.)
The Spark Criteria can be described as simple and modern. Is the design compelling, efficient, fresh? And does it somehow improve the quality of life, contributing to happiness, progress, sustainability?
The competition will be judged by an all-star Jury in San Francisco in late October, at the Autodesk Design Gallery. The Jury, still being formed, includes:
Jury Chair, Kit Hinrichs, Studio Hinrichs
Earl Gee, Partner, Gee+Chung Design, San Francisco
Ayse Birsel, Partner, BirselPlusseck, New York
Patricia McShane, Managing Director of Brand & Communications Design, M-A-D
Mark Davis, Director of User Experience, Autodesk
Noreen Morioka, Partner, AdamsMorioka, Los Angeles
This assembly of experts will carefully analyze all the entries, according to Spark administrators, asking jurors with special knowledge of a field to act as "facilitators" and help the other judges clearly understand that category of work. "It's a unique system," according to Peter Kuchnicki, "and it really levels the playing field within the various communication design categories."
Spark asks the Jury to look for fresh, interesting work—an innovative and powerful communication design. "With the high caliber of work we receive at the Spark Awards, the judges always make some joyful discoveries," Kuchnicki said.
Spark:Communication is one of five Spark Design Awards. More information about this organization and these competitions can be found at http://www.sparkawards.com
Bonus Background Info:
TRANS:MISSION
The Spark mission is to promote better living through better design. The criteria are the same for all Spark competitions: does the design "Spark," i.e., innovate, change the game and in some way help humanity or the environment we live in. The Spark founders believe Design is an important, relevant tool to help build a better world. We feel that Design and designers act as catalysts, addressing problems and improving our lives and our Earth. Designers may be from anywhere, of any age, of any education. But they design!
Spark is a bold new competition—a unique crossroads of design, where the interests of all participants in the community are represented and their strengths brought to bear. Spark leaps beyond the mid-century view of design. In this new world, how do the best ideas and best designs gain recognition? SparkAwards will validate superlative designs from professionals. But we also need a filter for the best novice designers and innovators, too. The world is now participating in design—let's enable the best formgivers to rise to the top.
Spark is about Change—designed change. Change for the better: studied, researched, cognizant of criteria like sustainability, suitability, context, inventiveness, process, universality—and yes, beauty.
Ultimately, one must ask why this is important. Commerce is important, but it is a means to an end. We might call the real goal "betterment." Better lives, better health, better water, better air. It's all the things that add up to the quality of life. Great design can help us get there. Do your part—make designs that make a difference. We'll help.
The Spark Design Awards—where modern sensibilities and your priorities are aligned.